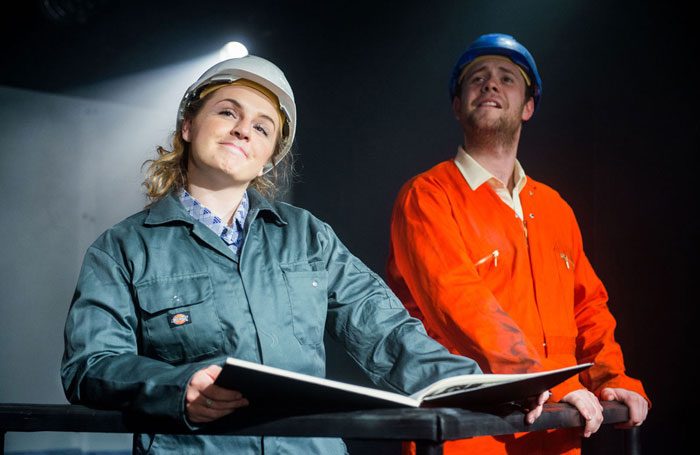 Peppered across the North Sea, giant metal birds stretch towards the sky and drill into the seabed below, hunting for life-giving oils and gasses. Along their wide bellies, men work day and night to keep them moving in dangerous, dirty conditions. The money's good, and the work is plentiful.
It's the 1980s, and health and safety is relaxed in favour of high production levels. Young artist Sue Jane Taylor is granted rare permission to visit these remote, precarious places where sea and sky violently collide with modern industry. She documents the men in the alien environment of an off-shore oil and gas platform, and is the inspiration for this new play by Tom Cooper.
Much of the play is set on the Piper Alpha, the largest offshore platform at the time. In July 1988, a series of health and safety shortcomings set off a chain of events that led to the platform's destruction and the deaths of over 150 men. Cooper's quiet tribute to lives often unconsidered by those of us on land is both educational and a sad reminder that it's a working class that pay the highest price for our dependency on oil and natural gas.
The storytelling here is strong, even though the narrative itself is sparsely structured and stretched over a long period of time. It is more powerful as a snapshot of moments, from the artist's interaction with the men to her negotiations with the company management before and after the disaster. Music goes a long way to establish mood, but doesn't make up for gaps in the story.
Catherine McLauchlan's set is a series of simple perspex backdrops of expansive, grey skies and rolling, dark seas. Tiny outlines of the rigs are almost imperceptible on the horizon line. Though they're clumsily bolted onto the flats of this improvised theatre at the top of the Pleasance Dome, they provide a sobering sense of perspective.
The narrative needs more substance, but the folkloric connection with the sea and the visceral need to share the stories of these men clinging onto these weird metal structures gives this little show a weighty earthiness. The story they tell is both moving and angering, and an important one – our modern conveniences cost people their lives.
Part of the Picture runs through 28 August.
The Play's the Thing UK is committed to covering fringe and progressive theatre in London and beyond. It is run entirely voluntarily and needs regular support to ensure its survival. For more information and to help The Play's the Thing UK provide coverage of the theatre that needs reviews the most, visit its patreon.