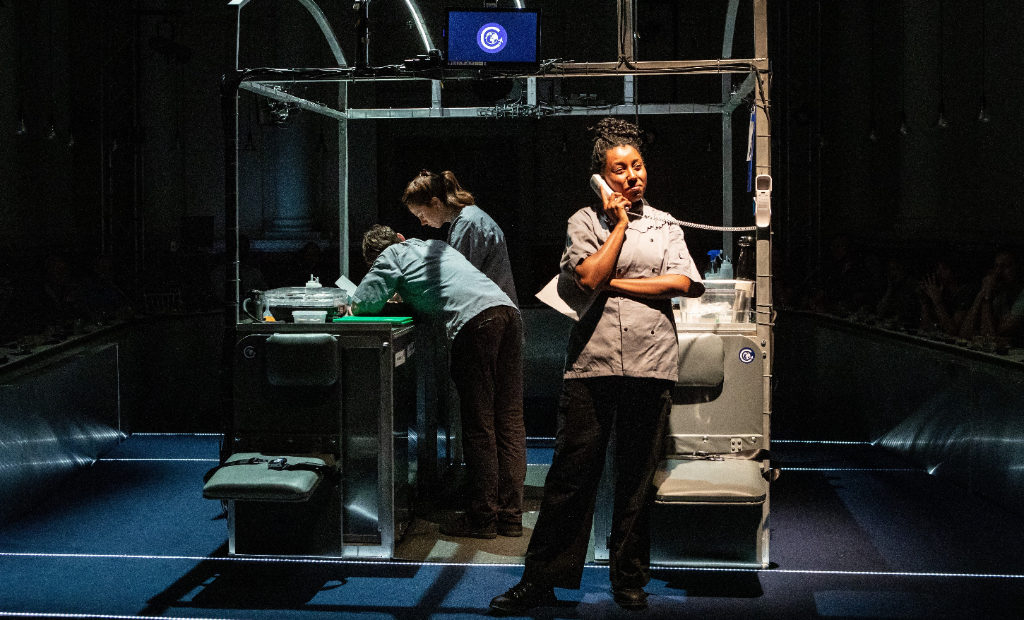 by Amy Toledano
Curious Directive have created a marvelous immersive experience with Gastronomic. This gorgeous piece of theatre brings us a story from the sky as we experience a first-class menu with a British theme covering curries on Brick Lane through to ice cream on Brighton Pier.
Head Chef Nora Schmidt (Georgina Strawson) brings Luca Khoury (Craig Hamilton) into her kitchen for this flight, heading to London from Beirut. Agat (Ani Nelson), Nora's Sous Chef, welcomes Luca into their workspace and tries to get Luca to open up, but he is vague and airy and, as we come to learn, is not exactly as he appears to be.
Not just wonderful storytelling, there is a stunning menu (shout out to the delicious Sunday Daydream that had a helium filled balloon attached to it!), this piece brings to light the political difficulties in many middle eastern countries, particularly in the ones that are deemed 'safe', raising the question, "safe for who?" It explores two lives that become intertwined through their love of food, cooking and a need to live out the dream of someone they loved.
The performances are seamless; the actors move between characters effortlessly and the clever staging device of transporting the audience to Heathrow security gates allows for the plates to be cleared, and for dramatic tension to be broken for the sake of comic relief. This comic relief turns almost sinister toward the end of the show however. The audience witnesses an interrogation of sorts, from a character who has provided a sense of comfort and reassurance throughout the show.
The show ends in a touching monologue that conjures an image of small town England, snowy and quiet and a sense of hope that is often lost in today's political climate, along side the best Bakewell tart I have ever eaten in my life.
Gastronomic runs through 12 October in London.
The Play's the Thing UK is committed to covering fringe and progressive theatre in London and beyond. It is run entirely voluntarily and needs regular support to ensure its survival. For more information and to help The Play's the Thing UK provide coverage of the theatre that needs reviews the most, visit its patreon.