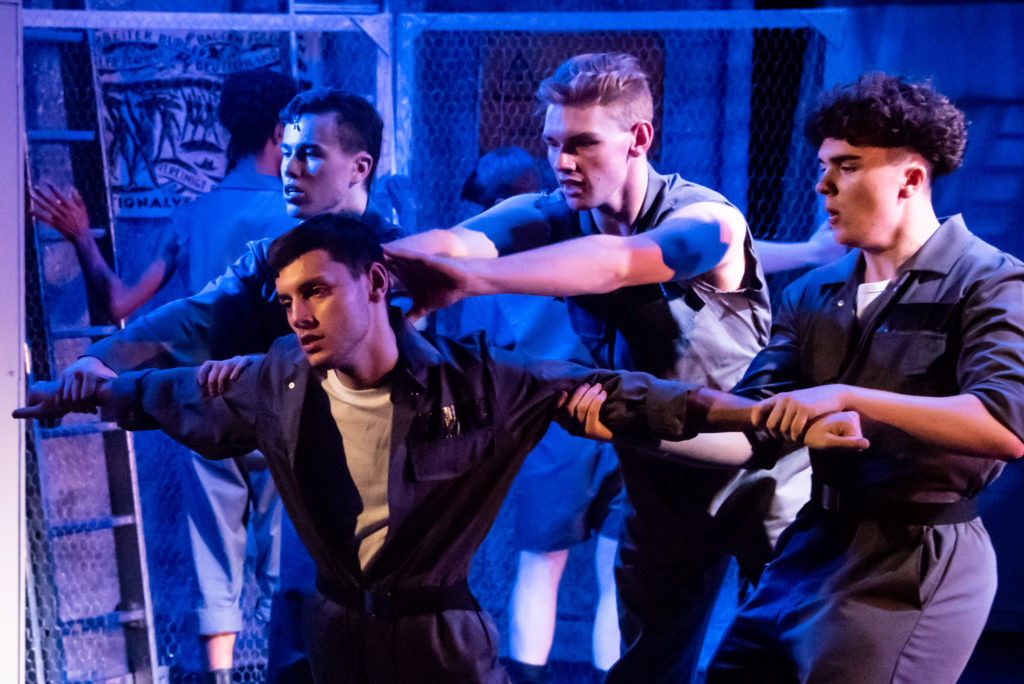 by Amy Toledano
Held holy by many musical theatre enthusiasts, Spring Awakening is about the turmoil and angst of growing up. The pain of self-discovery and the frustrations at growing up rapidly, and still being treated as a child by the adults around you, are one of its primary themes. And while The British Theatre Academy did their best to relay this to their audience, unfortunately they only remained at a surface level – it never really goes to the dark and vulnerable places that this show so desperately requires to make an impact.
Based on the play of the same name, written by Frank Wedekind in 1891, the musical is a rock love letter to our teenage years and the playlist that hums throughout the theatre before the show is a great beginning in setting up its world. However once the show is underway we are introduced to a cast who seemed to have all the energy, but sadly not a lot of the understanding of the confusion that their characters were lamenting.
It feels that the show's creatives have many different ideas but do not find the right way to execute them. The set and costumes are wonderfully designed, transporting us to a great, militant world with all the characters (except those in high religious positions) donning a sash on their arms, showing simply the symbol of their gender. It's a clever and poignant touch that sadly gets lost in the strange choreography and staging.
There are also a lot of actors on stage at all times, often giving the stage a suffocating feeling and not allowing each character the space for us to develop a true understanding of each of them. Instead, it creates distraction and leaves the audience feeling alienated and disconnected from these stories that are universal and meant to be easily relatable.
Choreography is the biggest issue. The actors (who are all clearly wonderful dancers) suddenly execute ballet and contemporary dance moves during songs that are built to be still and give the characters room to let us into their thoughts. The stillness allows us peek into their diary entries as it were, and to share moments that are incredibly personal and vulnerable. This particularly detracts from "The Dark I Know Well" in which two of the young, female characters share their dark tales of sexual abuse and violence. While the song should give these girls a voice in a time where they have none, they are shoved downstage, while two of the ensemble members perform an obvious contemporary dance that ends with a feigned rape scene that hit us over the head with meaning.
Performing such a well-loved show like Spring Awakening is no easy feat and while we can see flecks of understanding of the content throughout ("Totally Fucked" was one of the only moments in which we are able to get slightly close to feeling the anguish and pain of these young people), mostly this production is another 2D version of a show with much deeper meaning that needs less business, bells and whistles and more raw energy and storytelling.
Spring Awakening runs through 18 August.
The Play's the Thing UK is committed to covering fringe and progressive theatre in London and beyond. It is run entirely voluntarily and needs regular support to ensure its survival. For more information and to help The Play's the Thing UK provide coverage of the theatre that needs reviews the most, visit its patreon.