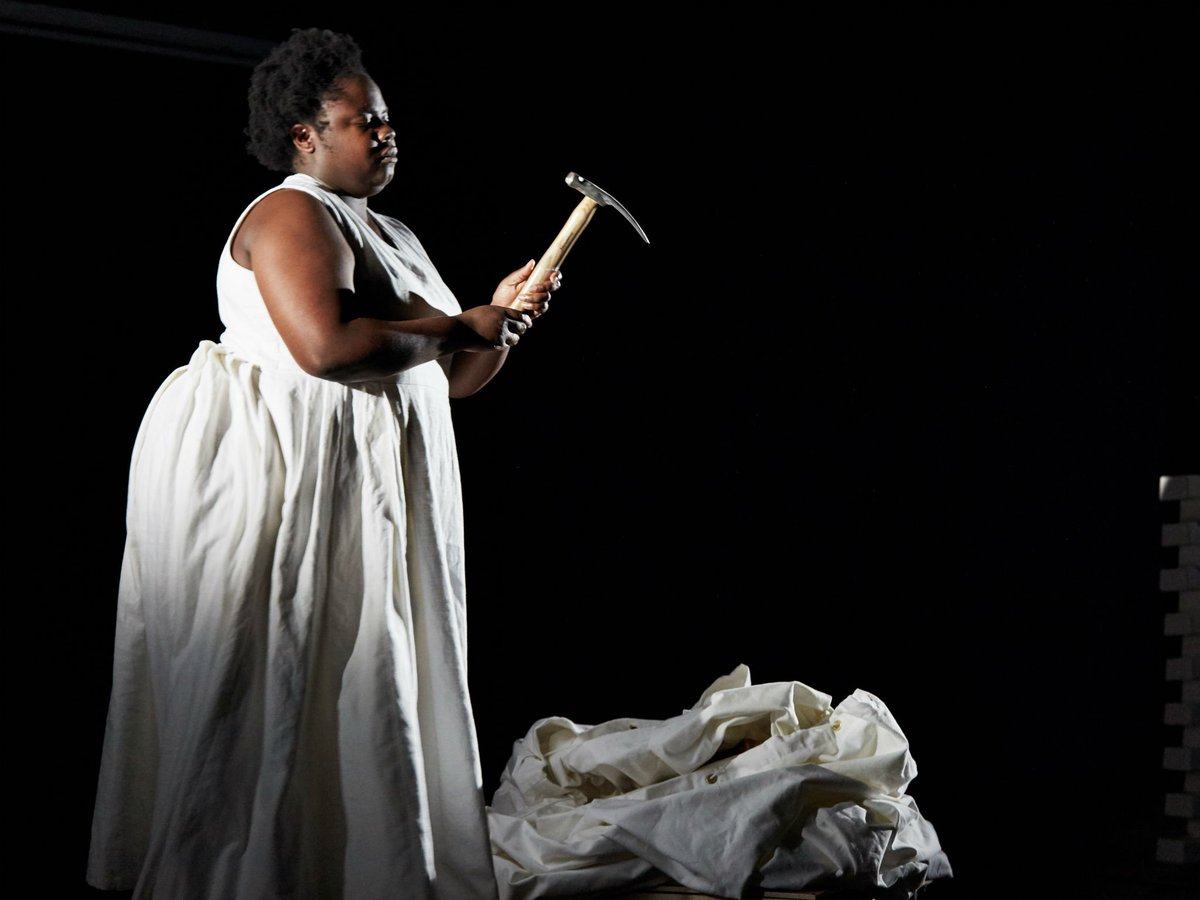 How do I, a white woman from the world's wealthiest country, voluntarily living in the world's fifth wealthiest country, who is educated and working in the arts, evaluate a show about a black British woman's experience of travelling slave trade routes?
Uncomfortably. It doesn't feel like it's my place to judge a show centred on the story of oppressed people, no matter how well or poorly it may be staged. But in this case I feel a responsibility to talk about this show, because it's great and important. Because even though it's a story viewed through the lens of white privilege, it's one that all white people need to know about. White people have benefitted from racial privilege that has exploited, oppressed and colonised people of colour for centuries, and listening to people of colour share their stories is, perhaps, the least we can do. salt. is one of those stories.
At 25, Selina Thompson boarded a cargo ship. From Europe to west Africa, to the Caribbean, to America, she floated in the belly of a ship for weeks on end. She endured both casual and overt racism from the ship's master and his officers. The filmmaker travelling with her was prohibited from filming whilst on board. She wept at historical sites where African people were processed and sold.
And she's here to show us how the whole of the the white west is built from the suffering and blood of native peoples. Her story is endowed with a visceral, emotional connection to the sea, the fort at Elmina, Ghana where West Africans were held before they endured unthinkable suffering on their transatlantic journey. Her description of her trip is heavy with imagery and stark truth, but it doesn't slow down the story. Instead, it's a meditative, quietly reflective process. Thompson's anger is necessarily disruptive to this mood and adds richness to the performance.
As we leave the performance space, we are offered a jagged piece of pink rock salt, once part of the seas that totally covered an infant earth. Salt is crucial to human existence – it keeps us alive and keeps us buoyant. It connects us to the oceans from which we evolved and drove social progress and development. It fills the water that propelled the slave ships across the world, and brought white colonisers to native lands.
With this piece of salt we we pledge to fight injustice in the world rather than stay silent. In a world where pro-white colonisation is still so rife, we must keep Thompson's words in our hearts and her salt in our hands as we stand up for what is right.
salt. runs through 26 August.
The Play's the Thing UK is committed to covering fringe and progressive theatre in London and beyond. It is run entirely voluntarily and needs regular support to ensure its survival. For more information and to help The Play's the Thing UK provide coverage of the theatre that needs reviews the most, visit its patreon.