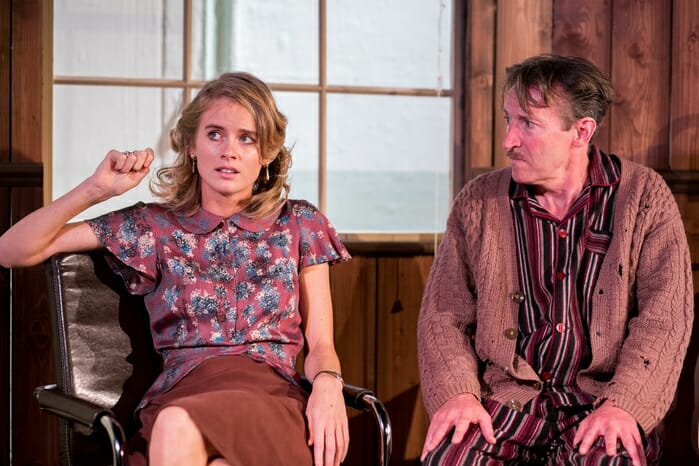 by guest critic Simona Negretto
In 1949, George Orwell lived the final months of his life in University College Hospital due to a severe case of tuberculosis. Torn between an uncertain faith in a recovery and the consciousness of the approaching end, hoping to write again, he decided to marry Sonia Brownell, a young and beautiful magazine editor. The marriage, as the play keeps reminding us, was a sort of pragmatic contra-deal conceived more out of interests than of love.
And this is mainly what this biographical play by Tony Cox is all about. There must surely have been some potential in the story of that odd relationship, but unfortunately neither the script nor the production, directed by Jimmy Walters, has been able to develop it completely. The result is merely informative, like an old-fashioned biography, only in this case on stage. George Orwell, Sonia Brownell, Lucien Freud and Fred Warburg do not sound entirely believeable. The actors are rather too encaged in the idea of their characters, forced to reveal a hint of life only through the epigrammatic, witty lines that every now and then make an appearance in the play.
The cast led by Peter Hamilton Dyer as the dying George Orwell and Cressida Bonas as the sensible Sonia Brownell delivers a performance that, far from being memorable, is at least occasionally enjoyable. Especially in the interaction between George Orwell and his nurse – played with a friendly and truly warm tone by Rosie Ede – and the somewhat comic timing shown by Robert Stock as Fred Warburg – perhaps the most engaging and varied performance of the show.
But in the narrow space of the Old Red Lion Theatre, the extremely clever work of Rebecca Brower, the designer, represents perhaps the highlight of Mrs Orwell: the monastic hospital room paints a clearer picture of Eric Arthur Blair, the man, and George Orwell, the character, than the thousands of words of the script. The use of the window overlooking a narrow entrance hall to create another space allows the action to be moved into different frames and to better focus the audience's attention.
All in all, Mrs Orwell is an honest, albeit rather dull, depiction of a perhaps not so well known period in George Orwell's life. The show is certainly not flawless but offers some interesting observations and information on one of the most relevant and prophetic authors of all time.
Mrs Orwell runs through August 26.
The Play's the Thing UK is committed to covering fringe and progressive theatre in London and beyond. It is run entirely voluntarily and needs regular support to ensure its survival. For more information and to help The Play's the Thing UK provide coverage of the theatre that needs reviews the most, visit its patreon.