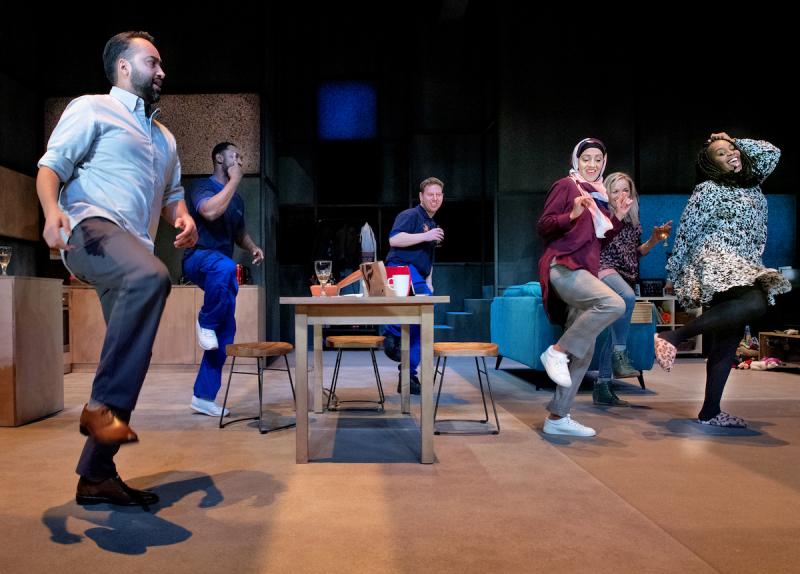 by Laura Kressly
Pretty much anyone that isn't rich is never far away from losing everything no matter how aspirational they might be. A decade of austerity measures mean that anything going wrong, like losing a job or a relationship breaks down, can lead to ruin within a matter of months, particularly for those who are already marginalised by Britain's systemic inequality. At the start of Mark's birthday party, it's a possibility doesn't occur to anyone. By the end, racism from one of the party guests catalyses a series of events that shows just how vulnerable people of colour and the working class are, and how desperation can make all of us do things that are ethically and morally questionable, even to our friends and families.
Gary and Nicola, the focal characters, are Mark's best friends from school so he's having his birthday drinks at their's. Anjum and Mo, a couple whose son goes to school with Gary and Nicola's eldest, are there as well along with Gary's sister Karen. Gary and Mark's boss Victoria is an unexpected guest. As the only middle class, white person in the room, she's the one with the most privilege. It clearly and painfully shows, and Gary's response to her privilege and the behaviour it elicits is initially justified. Yet because self-preservation and personal flaws can turn a nice guy like Gary into a ranging, wounded animal, most of the characters come off badly by the end of the play. Different combinations of racism, discrimination, misogyny, and classism make every single one of the main characters a victim, but some turn on each other out of self-defense and inflict the forces of which they are a victim on each other. Whilst relentlessly bleak and painful to watch, it's also inarguably, achingly human – especially when these people who are already marginalised sabotage those closest to them because they are well and truly backed into a corner.
Kaur Bhatti masterfully creates recognisable characters with flaws that are reminiscent of Greek theatre. Pride, jealousy, covetousness and rage appear throughout and help drive the action forward as they influence the character's choices. The audience gets increasingly involved as things fall apart; they use call and response to voice their condemnation and agreement with those on stage with dialogue that mirrors the emotions flying about the stage. Gary (Richie Campbell) is on the receiving end of some particularly cutting commentary, whereas Karen (Petra Letang) is cheered as she tries to keep her brother from going off the rails completely.
This is a rich, multi-layered story that honestly reflects the rich, cultural makeup of Britain's cities and the hardship that many people endure. Though it's a tense, uncomfortable watch though, there are also moments that are deliciously funny. Director Michael Buffong navigates these tone shifts with ease and designer Anna Fleischle's realistic depiction of Gary and Nicola's flat makes their world all the more believable, but it's Kuar Bhatti's character-driven narrative that examines how much hardship and discrimination someone can endure is a crucial story to tell in these dismal times.
A Kind of People runs through 5 December.
The Play's the Thing UK is committed to covering fringe and progressive theatre in London and beyond. It is run entirely voluntarily and needs regular support to ensure its survival. For more information and to help The Play's the Thing UK provide coverage of the theatre that needs reviews the most, visit its patreon.