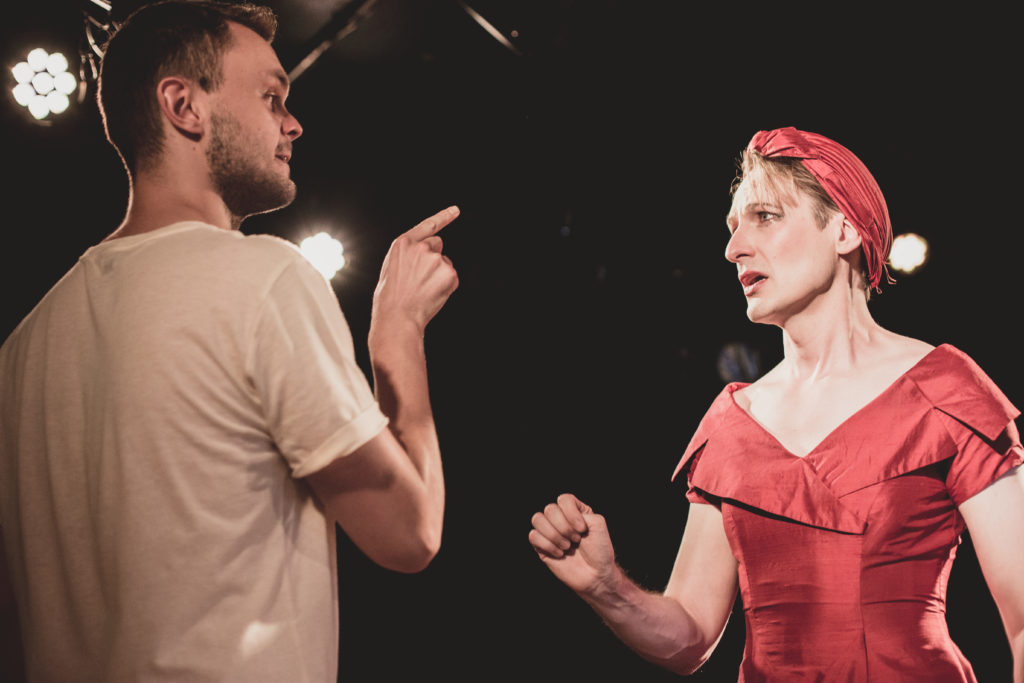 by guest critic Greg Forrest
Trans drag queen Candy Delaney (Luke Mullins) is about to turn thirty-five, with three properties in New Orleans, a successful interior decorating business, and a leak in her heart. Looking to leave this little empire to someone, Candy picks up a "straight" sailor in a gay bar (George Fletcher), and makes a tentative offer.
Tennessee Williams wrote And Tell Sad Stories of the Death of Queens in 1957, after his Broadway successes with Streetcar and Cat on a Hot Tin Roof. It is one of about seventy rarely performed one-act dramas that the gay playwright penned over the course of his life, and has, in recent years, been singled out as the piece in which Williams writes explicitly queer characters.
This revival at the King's Head Theatre is a solid production of a strange play. Director Jamie Armitage gets the very best from his actors, and Joe Beighton's simple arrangements of contemporary pop songs are sensitive to the play's themes; wisely focusing on performer Ryan Kopel's beautiful voice. The story itself is brief, self-contained, and feels restricted by its structure. It is little more than a sketch. But then, the sketch of a good artist is better than the elaborate painting of a bad one. And there are several markers of Williams' style here: the long, languishing monologues; the buzzing American night; the neurosis of unrequited love.
There is a divisive issue in the LGBT+ community about the kind of stories we should be telling about ourselves. Specifically, why do so many gay narratives end in tragedy? By extension, is there something inherently tragic about the condition of being queer?
In the past, it is reckoned we spouted sad stories of the death of queens because this was the only narrative that "mainstream" culture could stomach: a world where gay characters were either sad or dead in the end. Kicking back against this, happy endings then seem to be the only viable socio-political option. It is the tonal shift from Brokeback Mountain to God's Own Country. But how honest is this happily ever after? Especially when growing up queer in a straight world so often leads to deep psychological trauma and self-destructive behaviours.
And Tell Sad Stories lands right at the heart of this argument. Why revive this? Why give voice to a play in which the queer protagonist is repeatedly belittled and assaulted for their gender identity and sexual expression?
It is something of a false dichotomy. Not because happy and sad are unopposed, but because cultural structures can accommodate all different kinds of narratives. We should be fighting for more queer stories – happy, sad, funny, scary, lyrical, action-packed, arty-farty, and the rest – rather than squabbling over the small lot we currently have. We should stop legitimising the programming power of the heteronorm, and stop assuming, incorrectly, that art is managed solely by a bunch of breeders.
In this play, Candy's nosey lodgers Alvin and Jerry are essential. Williams uses them to poke fun at the tragic queero, undercutting his own final image with one of gay solidarity and humour. When you remember this was written in a post-war, pre-sexual revolution, pre civil rights America, it is all the more impressive.
This one act play remained unperformed in its time. It now reads as a smart examination of the politics of representation by one of our best dramatists.
And Tell Sad Stories of the Death of Queens runs until 19 August.
The Play's the Thing UK is committed to covering fringe and progressive theatre in London and beyond. It is run entirely voluntarily and needs regular support to ensure its survival. For more information and to help The Play's the Thing UK provide coverage of the theatre that needs reviews the most, visit its patreon.