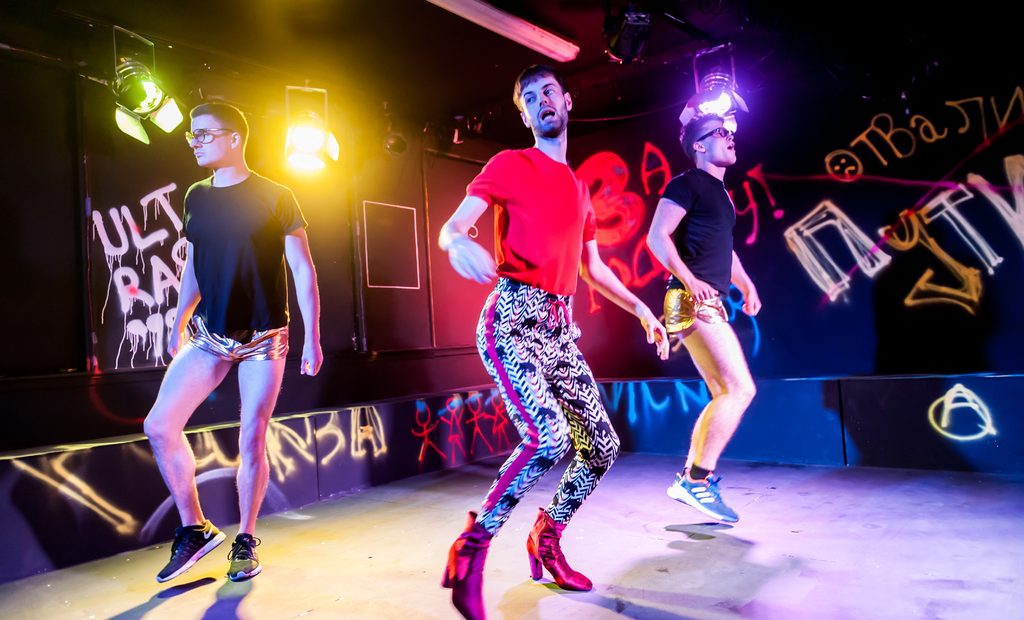 by guest critic Meredith Jones Russell
A devastating and often surreal critique of a state's oppression of a minority, with a strictly limited dissemination in the country it was written in, A Little Hero is a brave first play for young company DoneDid. Its production at the White Bear Theatre in Kennington doesn't always quite get it right, but makes a worthy and powerful attempt.
It helps that the play is written by a real life Russia-based Russian, which lends it an authenticity and authority often lacking in Western representations of the country. Valeriy Pecheykin also happens to be gay, and since the 'gay propaganda law' was passed in 2013, his life in Putin's society has become (even more) challenging.
But DoneDid has given a platform to A Little Hero, which is in turn light and entertaining, as well as brutally dark and shocking. The 'hero' of the title is, unexpectedly, a young homophobe, Vovochka, who delights in rooting out homosexuals living in his local area and subjecting them to ever-escalating horrors.
In the zany first half, we see him try to mount a hate campaign among his neighbours against Sergei and Alexander, a gay cohabiting couple. It's funny, but we are quickly made all too aware of how scary it can be to feel you have spies all around you. The set is simply dressed to resemble Soviet-style apartment block flats is covered in homophobic Cyrillic graffiti. It is an evocative representation of the claustrophobic living conditions of much of modern-day Russia, where for some, the threat of neighbours informing on you is still in relatively recent memory. For Sergei and Alexander this soon becomes horrific reality, and the second half takes an even darker turn as Vovochka introduces the 'Crematorium' and embarks on a deranged but chilling Putin-esque rant on the perceived threat of the spread of homosexuality, and how to stop it.
Through the often amusing, caricatured cast of neighbours, we see Vovochka try to warn others of homosexuals living in their building. It's also important that Pecheykin shows some neighbours who are sympathetic to, or simply aren't interested in, the personal lives of the couple – it can be an easy conclusion to draw that all Russians are homophobic. Pecheykin's script thankfully lets us look deeper than that.
The writing is great, and while the dialogue is clever and fluent it is also ever so slightly unnatural, so you are always aware it's a translation. The use of 80s club anthems also keeps you nicely unsettled – at the beginning it makes you feel you've walked in via Soho, only be transported quickly to a darker world: we're not in Kansas any more. But then the return to the same relentlessly and incongruously upbeat tunes at the end of Act One and for the finale soberly reminds you that while this is a distinctly Russian play, it could in reality be anywhere.
Having said that, the exposition of the introduction is unnecessary – breaking the fourth wall for a moment cast member Jamie Foulkes tells us about the writing of the play and the reasons it has been staged here. This may be the company trying to protect itself, as the next few hours can often feel like a barrage of abuse and offensiveness. But you wish they had had the nerve just to see it through – it's all the more shocking without any respite or excuse, and when it forces us to question how far removed from it we really are. Several times, addressing the audience directly, an actor asks if they will join in the persecution. The answer is no, but it makes you wonder, if enough people do enough terrible things around you, who will be brave enough to take a stand and refuse.
It's not the slickest production, with rickety moments and a few unsure performances, but the play as a whole is an effective and thought-provoking piece. There's undeniably more to the issue in Russia that goes unexplored here, but the play provides a relatively authentic voice and, vitally, manages simultaneously to root the problem in a specifically Russian context and also to broaden the issue to a wider scope. You can leave feeling relieved and proud to live in relatively liberal London, but the play also makes a strong case for how far we all still have to go.
A Little Hero runs until 25 August.
The Play's the Thing UK is committed to covering fringe and progressive theatre in London and beyond. It is run entirely voluntarily and needs regular support to ensure its survival. For more information and to help The Play's the Thing UK provide coverage of the theatre that needs reviews the most, visit its patreon.