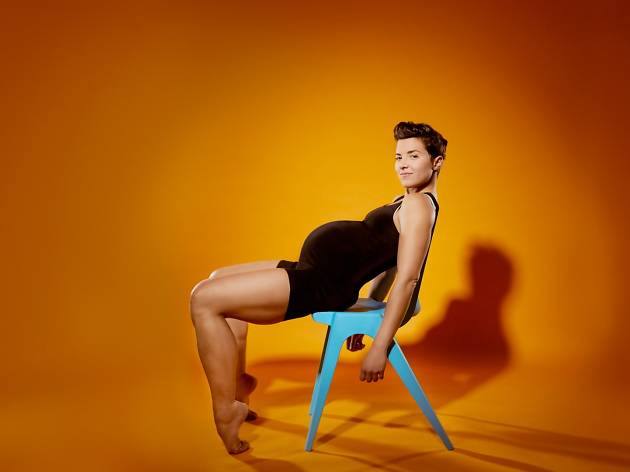 by Bryony Rae Taylor
In my experience of being a woman in her late 20s, I've had a boring revelation that some still feel it's necessary to question whether I'll have babies. I was almost late to Push as I had to spend some time un-rolling the eyes from the back of my head, as seconds before I entered the auditorium, I'd seen targeted adverts asking if I wanted to freeze my eggs. One moment you're watching a cat video, the next you're wondering if you should put the fruits of your ovaries into a big fridge. Not cool.
This is the social landscape in which Bristol theatre company Popelei locates Push. Performer Tamsin Hurtado Clarke asks what you do when "you've made the brilliant decision NOT to have children and then, at age 35, you find yourself pregnant?". What do you do when you're still feeling the pressure to have children by the media, by parents, by grandparents?
Clarke is bloody wonderful. I love her. And she knows how to throw a shape. She's an enchanting raconteur who creates as much concise eloquence from her movement as she does her language. It's a stream of consciousness which travels down both forks in the road – 'TO SPROG OR NOT TO SPROG… THAT IS THAT QUESTION!'.
It's an exceptional piece of new writing. The performer seems to throw herself, with ease, down a lexical rabbit hole: one word might provoke myriad eventualities- the 'f-f-fuck' of a positive pregnancy test leads into a piece of physical theatre. Delivering the news – "I'm pregnant" – turns Clarke into an emotional kaleidoscope as she plays with the many ways that news might be delivered.
The stage is a three-metre (ish) square platform, which places the story up-front-and-centre, and the narrative clarity is solely reliant on the picture that Clarke paints with her body and her words. The multifarious nature of the storytelling marries the heavy existential crisis of producing mini-versions of ourselves with more everyday concerns of living.
It's a one-woman show centred on one woman's story, and its sense of universality will be welcome to those who experience the pressure to have, or not have, children. If this isn't, or hasn't, been your concern, it's still a charming matrimony of language and movement.
Push runs through 2 February.
The Play's the Thing UK is committed to covering fringe and progressive theatre in London and beyond. It is run entirely voluntarily and needs regular support to ensure its survival. For more information and to help The Play's the Thing UK provide coverage of the theatre that needs reviews the most, visit its patreon.