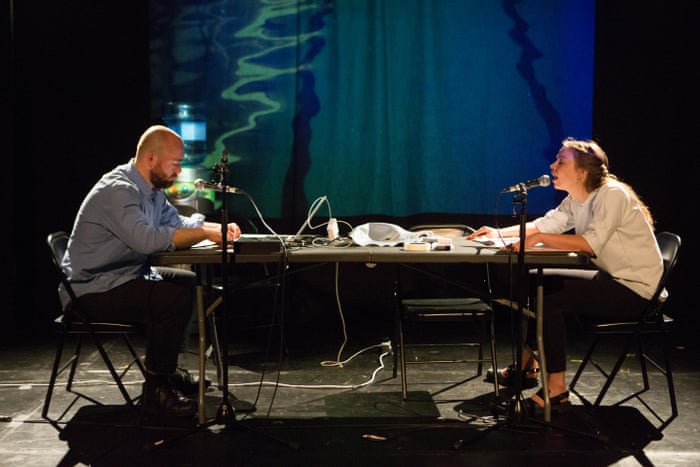 Like their debut production The Beanfield, Breach Theatre's second show Tank recreates a contentious historical event in a distinctive meta-theatrical mashup of forms and styles.
In the 1960s, Dr John Lilley built a Caribbean villa to research cetacean communication with NASA money. Margaret Howe, a young woman with no qualifications who quite liked dolphins, decided she wanted to work there and, impressed by her observational skills, Lilley gave her a job. Their research soon became tarnished with Lilley's experimentation with LSD and incidents that occured when Howe's lived in isolation with one of the young male dolphins, Peter.
Breach trawled through hours of recordings documenting their experiments to form the base structure of the verbatim Tank, fleshed out with live sound effects, dance and narration. The production is multi-layered; on one level it's a fascinating recreation of these experiments and on another, it's a searing critique of American imperialism over not just other people, but other species that they deem inferior.
Two of the cast of four play Margaret and Peter. Speaking through microphones that distort Peter's voice into dolphin sounds, there's a scientific distance between them, and a condescending approach from Margaret. "Speak English, Peter. English," she says, like a mother to a petulant child only willing to answer in noises, or a condescending local to a tourist. An idea dawns on her that living full time with Peter over a number of weeks in specially adapted rooms would create a fully immersive environment in which the dolphin is sure to make progress.
The weeks in isolation take a toll on them both. Margaret starts to show signs of psychological distress, and the adolescent Peter, normally around two female dolphins, becomes increasingly aggressive. This takes effects their lessons, so Margaret makes a decision that will later be leaked to the press – she manually stimulates Peter to relieve his sexual urges.
She wanks a dolphin.
Breach handle the topic without perverting it as the media did, instead they focus on her scientific thought progression and the fear that his aggression causes. Her focus is always on Peter and his welfare; there is nothing sexual in her actions whatsoever. The overall effect is glossed over in favour of emphasising darker themes – animal welfare, English language dominance and America's need to rule literally everything in the Cold War era. The other two performers take on narrative and supporting roles, adding depth, context and debate.
The end is a fitting conclusion albeit somewhat of an anti-climax, but the show's sentiment lingers. This is a more sophisticated piece from Breach, less shouty but with greater impact. The thoughtful, progressive piece more firmly cements their reputation as exciting, young theatre makers.
Tank ran through 20th August.
The Play's the Thing UK is committed to covering fringe and progressive theatre in London and beyond. It is run entirely voluntarily and needs regular support to ensure its survival. For more information and to help The Play's the Thing UK provide coverage of the theatre that needs reviews the most, visit its patreon.