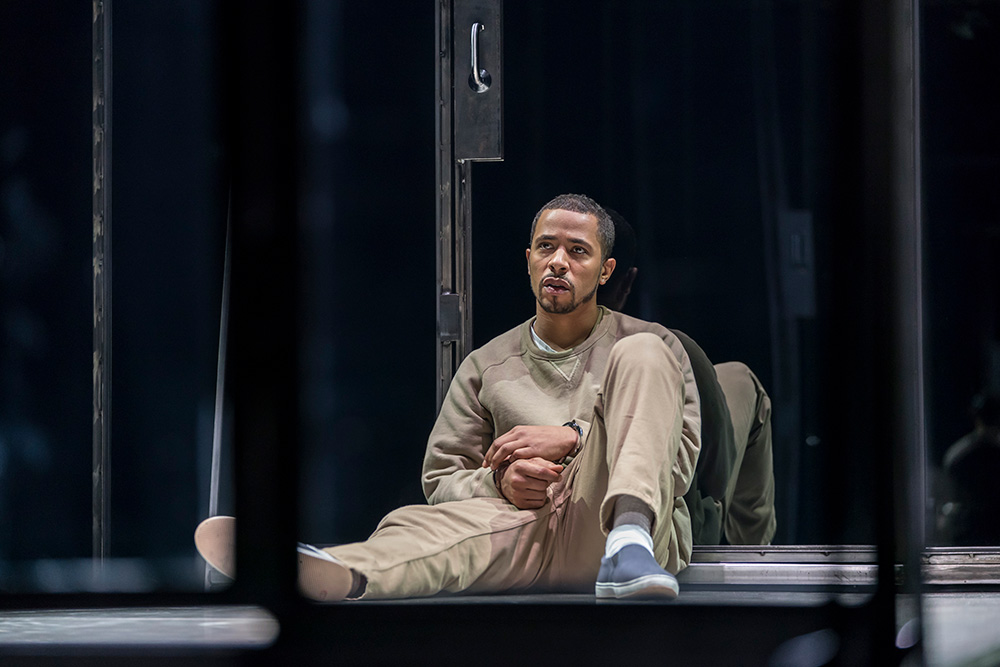 by Maeve Campbell
Angel Cruz has shot a man in the ass. He says he didn't kill the religious cult leader, who
had apparently brainwashed his best friend Joey, but this man is now dead. This is where
we start Jesus Hopped the 'A' Train. What follows is a compelling exploration of guilt,
goodness and godliness as Angel, incarcerated in New York's infamous Rikers Island,
confronts his emphatic public defender, a sadistic prison guard and a charismatic, born-
again Christian serial killer.
The play's strength is its exhilarating, pacey dialogue, which is brought to life by Kate
Hewitt's slick direction. Hewitt smartly leans into the text's vignette-like structure, punctuating each scene with fast black outs and deafening percussion that masterfully creates a sense of jumpy tension. The traverse staging gives the scenes a view-master toy like quality, further emphasised by Magda Willi's flat, sliding prison door set-pieces. These sinisterly move up and down the stage, creating isolating or claustrophobic prison spaces.
The cast are magnetic too. Stephen Adly Guirgis' script is a gift to any actor, as the
characters are beautifully, complexly crafted. There is, despite this, an electric focus
displayed by this ensemble. The men at the centre of the story, Angel (Ukwell Roach) and
mass-murderer Lucius (Oberon KA Adjepong), are played with a level of mania that never reaches melodrama. Dervla Kirwan's performance as the enthusiastic, but deeply neurotic, public defender, subtly shifts from cool and confident one moment to edgy and self- destructive the next. She is mesmerising to watch.
The ending is brutal, but what's most tragic about this play is that it's nearly twenty years old. Violent attacks on inmates in Rikers Island and other US prisons have risen since this work's first staging. The racial politics don't feel at all dated. A scene where Lucius debates the worth of his life as an African American compared to his white counterparts garnered surprising, knowing laughs from the audience, and is sadly very timely. This play is practically part of the American dramatic canon now and it feels right that it's been programmed at the Young Vic, hopefully reaching a wider British audience than it has had chance to before.
Jesus Hopped the 'A' Train runs through 30 March.
The Play's the Thing UK is committed to covering fringe and progressive theatre in London and beyond. It is run entirely voluntarily and needs regular support to ensure its survival. For more information and to help The Play's the Thing UK provide coverage of the theatre that needs reviews the most, visit its patreon.