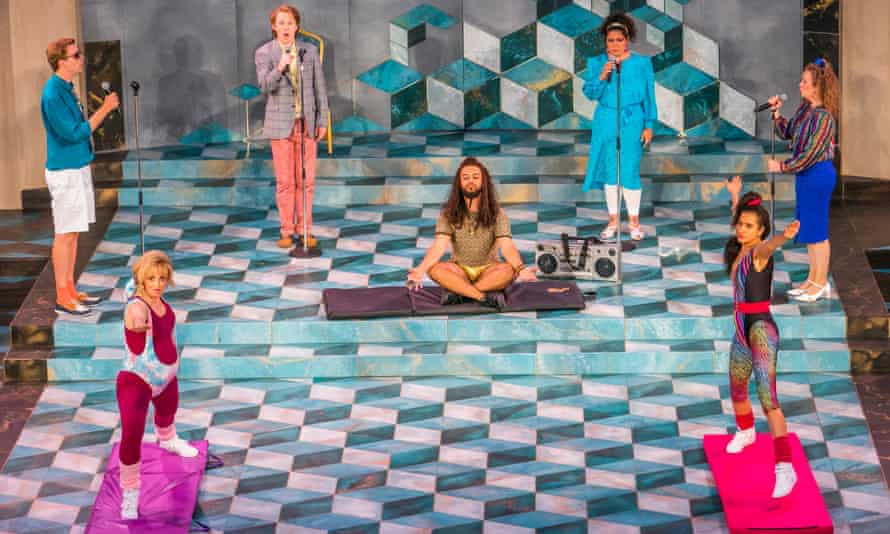 by Michaela Clement-Hayes
"A man may break a word with you, sir, and words are but wind;
Ay, and break it in your face, so he break it not behind."
It is a brave author that uses the word 'comedy' in the title of a play. Expectations are high, humour is anticipated and disappointment likely. Happily, this is not the case with the RSC's current production of William Shakespeare's The Comedy of Errors: a tale of mistaken identity and separation (of two pairs of twins) at birth. 
Although the show gets off to a slow start, with a few nervous players, it soon picks up speed and flows so well that even a Shakespeare virgin would be able to follow the story. As with most Shakespearean adaptations these days, the director (Phillip Breen) has brought the setting forward, this time to the 1980s. Once you get used to the garish colours and big hair (congratulations to the Wig Team), it actually works quite well and feels very suited to the story. Musical interludes – in the form of four singers – are used well to break up the scenes, and the set is elegant and simple but effective.
The play's visual interpretation and slapstick style make it a joy to watch, with timing used creatively to garner the most laughs. The ensemble characters manage to enhance humorous scenes with their performances, often saying nothing to achieve a ripple of laughter from the audience. This is the sign of brilliant direction; every actor is immersed in the performance throughout, frequently switching roles (and costumes) to provide townsfolk, waiting staff or bystanders.
The cast are a joy to behold, extremely talented and diverse. William Grint (Second Merchant), once asked in an interview, "if a role doesn't absolutely have to be a hearing, speaking role, then why not give it to a Deaf person?" and why not indeed? Grint's performance is profound and shows that characterisation and spatial awareness are what maketh an actor. The principal actors are all excellent, with each pair of twin brothers contrasting nicely and providing plenty of confusion and hilarity. Special mention to the Second Merchant's Bodyguard, played by Dyfrig Morris, Baker Mukasa (Angelo) and Patrick Osborne (Balthasar), who were excellent in their supporting roles.
There's really very little to fault. The exception is the play's final moments, which feel a little drawn out and awkward. Cast members gradually exit, leaving many audience members nervously waiting to clap at the right moment. That said, this is a unique and accessible interpretation of a classic that is extremely enjoyable.
The Comedy of Errors tours through 31 December.
The Play's the Thing UK is committed to covering fringe and progressive theatre in London and beyond. It is run entirely voluntarily and needs regular support to ensure its survival. For more information and to help The Play's the Thing UK provide coverage of the theatre that needs reviews the most, visit its patreon.