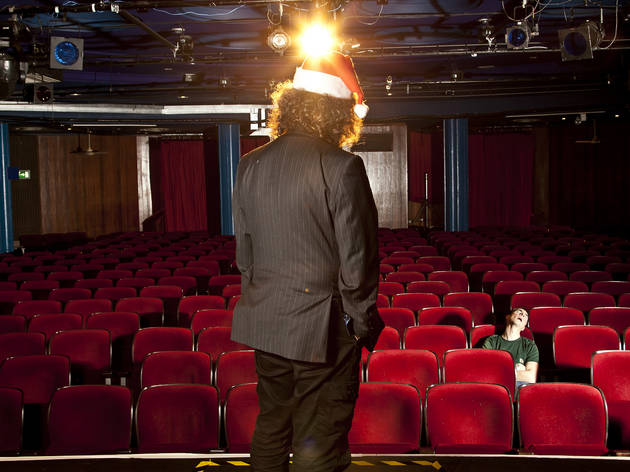 by an anonymous guest critic
It's fair to say that watching Jerry Sadowitz is not for the fainthearted. There is no topic that this infamous comedian/magician won't attempt to mine comedy material from. So whilst a lot of his jokes are extremely funny, quite often they are proceeded by a jolt to the audience as they realise that yes, he is about to do a bit about some of the following subjects: paedophilia, the Hillsborough disaster, rape, the Holocaust, Trump (whom he supports), Bridget Christie and Stewart Lee to name just a few. Most of the time, the audience, who are well tuned into Sadowitz's ruthless style, are in hysterics.
Interspersed throughout are Sadowitz's amazing card tricks. This is a perverse combination and probably the main reason Sadowitz has remained so unique for so many years. His sleight of hand card tricks are something to behold and each trick is usually followed by Sadowitz telling the audience to 'fuck off and stop being so patronising'.
It was notable that most of audience had been drinking a fair amount by the time the show started at 10pm. This is probably a good thing as the atmosphere in the theatre could potentially be a little tense if hearing some of this material for the first time.
Sadowitz is one of a kind and not the sort of comedian one can easily catch on TV anymore due to networks' fear of causing offence. Seeing him perform on the main stage at Soho Theatre is to see him firmly in his element. Recommended.
Jerry Sadowitz: Card Tricks with Appropriate Patter runs through 24 June.
The Play's the Thing UK is committed to covering fringe and progressive theatre in London and beyond. It is run entirely voluntarily and needs regular support to ensure its survival. For more information and to help The Play's the Thing UK provide coverage of the theatre that needs reviews the most, visit its patreon.