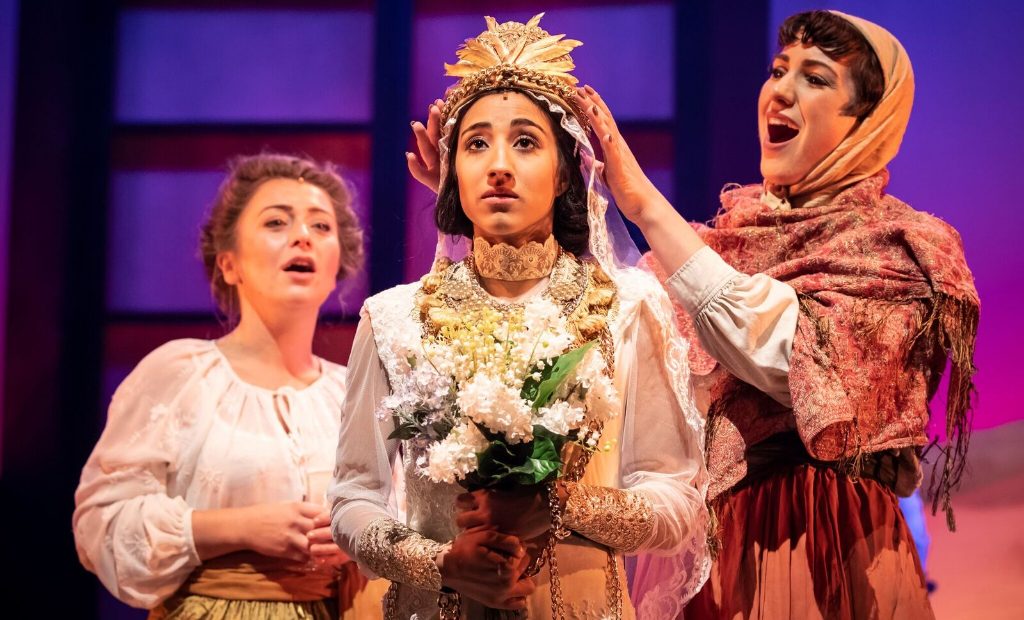 by guest critic Amy Toledano
It is rare that a new musical has the kind of oomph that Broken Wings has in a run lasting just four days. This show has shown that a brilliant cast, outstanding musicians and phenomenal score can create true magic.
The story based on the novel of Kahlil Gibran, a poet and writer from Beirut who published his works at the turn of the century, is a rare one. It promotes themes of equality and feminism in a time when women were a commodity to men (especially wealthy men), bought and sold and married off lin transactional exchanges. Gibran's story is one of heroism – not of his own – but that of his one, true love Selma (played by the powerhouse that is Nikita Johal). It documents the submission and obedience she was forced to undertake and her small but powerful protests that made all the difference.
Nadim Naaman, who wrote the book and some of the score, also plays the show's narrator, a 40-year-old Gibran. He is looking back on his life and bearing witness to his younger self (played by the charismatic Rob Houchen) and his experiences on returning to his home of Beirut after being in America with his mother and siblings for many years. Naaman creates a real sense of 'The Old Beirut', its beauty and kindness, and the people who spent their lives there. A strong ensemble who play with the dynamics and power of the score effortlessly provide the support needed to carry the show.
It is plainly obvious that the real star of the show is the heartwarming and often heartbreaking score. Up there with the likes of Les Miserables and Miss Saigon, Dana Al Fardan and Naaman have created something truly remarkable and established their place amongst the world of the greats. From the opening moments of the show, the music stirs emotion deep within and keeps takes us on a journey that we have no choice but to immerse ourselves in.
This is a fantastic debut for an absolutely gut-wrenching show with flawless vocals and a genuine spirit that many big musical often struggle to attain.
Broken Wings runs through 4 August.
The Play's the Thing UK is committed to covering fringe and progressive theatre in London and beyond. It is run entirely voluntarily and needs regular support to ensure its survival. For more information and to help The Play's the Thing UK provide coverage of the theatre that needs reviews the most, visit its patreon.