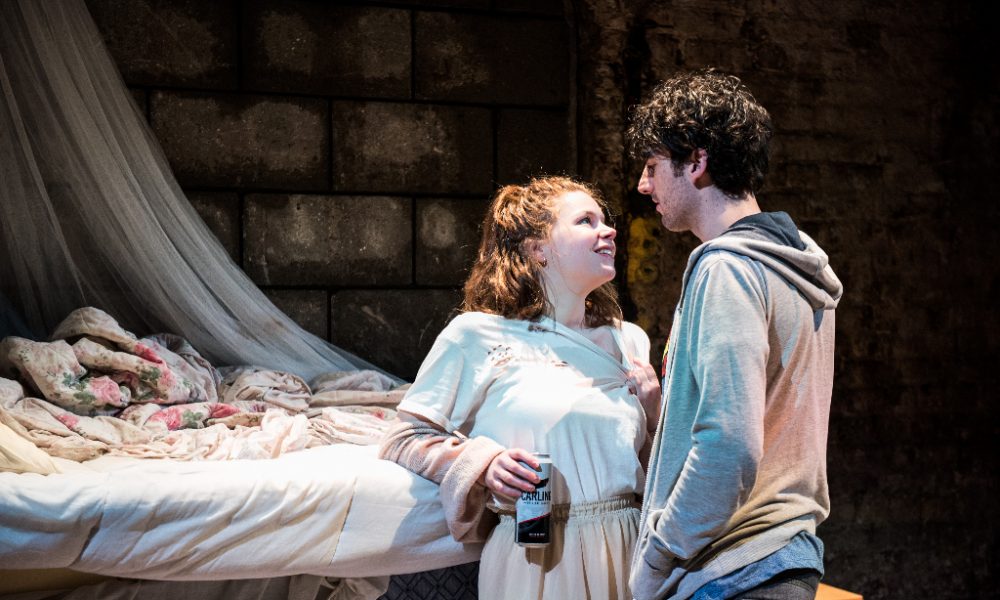 by an anonymous guest critic
Nest is a beautiful two-hander by Katy Warner, which was understandably shortlisted for Theatre503's playwriting award. Travelling through an unconventional, council-estate couple's journey, the play invites the audience into snippets of their relationship, through a series of non-chronological scenes.
Set in a wonderfully chaotic bedsit with essences of angel wings and scattered tins, Holly Pigott's design reflects the poisonous disarray surrounding the couple, with Jade (Charlotte Jane Higgins) wildly suggesting they end it all in a Romeo & Juliet-esque style. Jade appears to be the driving force in the relationship, with an addictive presence on stage that's hard not to watch. She displays an unpredictable and playful energy, with hints of movements inspired by her long-term idolisation of ballet which now seems a world far away from the bleak council estate setting.
Her partner Liam (Arthur McBain) is the epitome of a 'wasteman' lulling in his unemployment – Warner is carefully touching on the lack of opportunity for the working class. Though in an unnamed town the play is placed in a Northern setting, assisted by the accents of the actors. Liam, though presented with a lot of flaws, finds himself constantly questioned by Jade's ever-growing paranoia that he is "fucking the woman next door with big boobs". It's easy to sympathise with Liam, who McBain plays with moments of comedic brilliance – he manages to successfully steal a television for Jade in a bid for her approval only to be met by disappointment.
Warner sets up the characters with such detail and ease it's difficult to not be pulled into their world and left wanting to know more when the intense 60 minutes is over.
Nest runs through 4 March.
The Play's the Thing UK is committed to covering fringe and progressive theatre in London and beyond. It is run entirely voluntarily and needs regular support to ensure its survival. For more information and to help The Play's the Thing UK provide coverage of the theatre that needs reviews the most, visit its patreon.