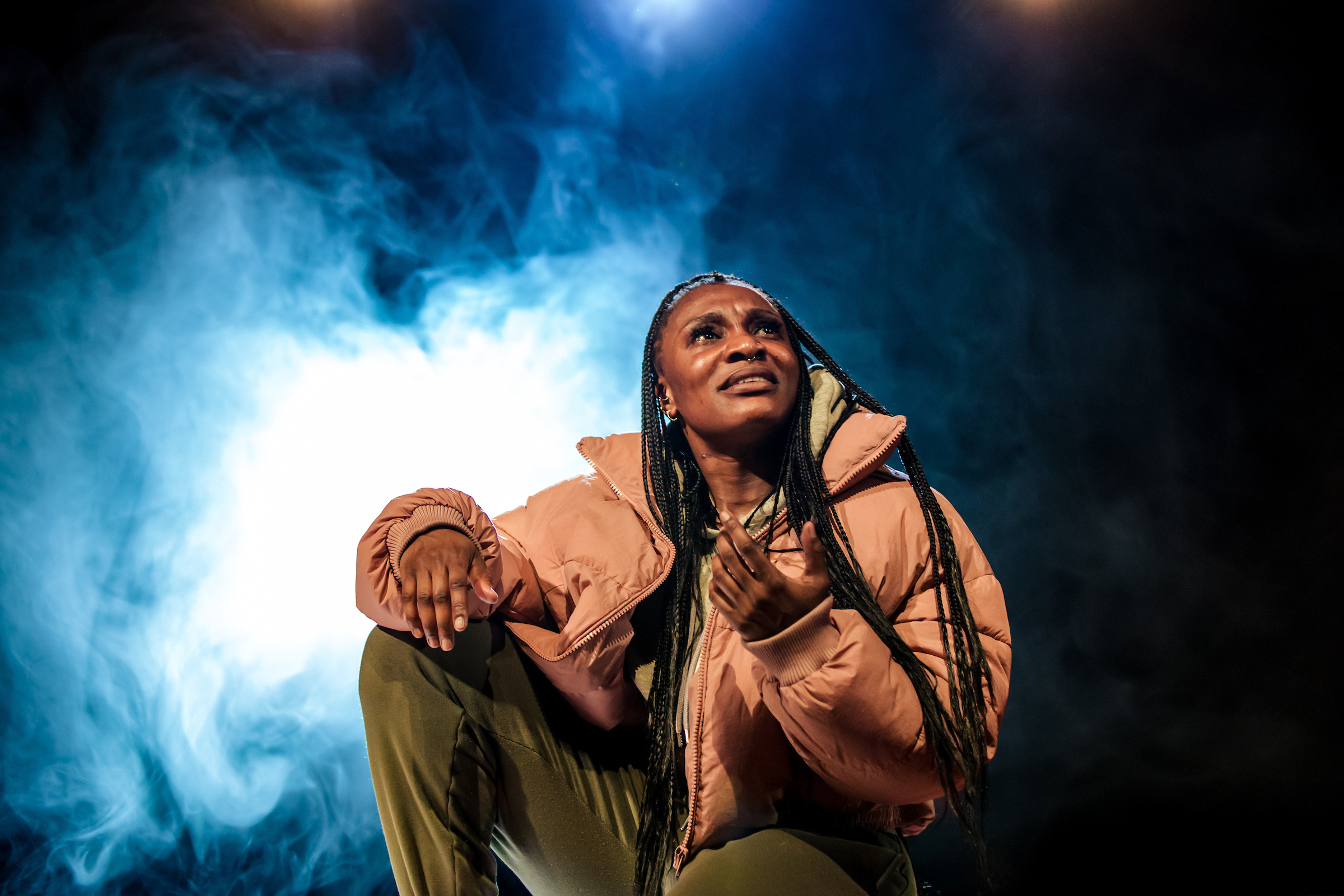 by Laura Kressly
Women's anger is often expected to be suppressed or contained rather than be unleashed on the world. Otherwise, we risk being labelled 'crazy' or 'a bitch', no matter what injustice we experience. But Femi can't hold it in anymore. The night before the group of white men who killed her killed her brother Seun on Margate's beach face charges of manslaughter, his ghost visits her to share the truth of his death. Initially baffled by her dead brother's appearance, she is transformed into an embodied fury that cannot and will not stop until she gets revenge.
It's easy to initially draw parallels to Hamlet in Dipo Baruwa-Etti's script designed to be performed by one actor. Like Hamlet, in this play there's a lack of eyewitnesses and a ghost showing how he died to the single person he was closest to. However, stopping at this Shakespearian comparison diminishes the important role that systemic racism and injustice plays in determining Seun's fate, and Femi's subsequent quest. Baruwa-Etti clearly states the play is set in contemporary London, where there's a legacy of white crime being punished less severely than that committed by people of colour. Underscoring this is how white people are prone to misinterpreting Black women's emotional expressions as aggression, and the risks Femi faces just by showing the world how she feels. Though Hamlet has a few people working against him, Femi has a nation's entire history of racism, classism and misogyny against her.
Kibong Tanji plays Femi, and the other characters who Femi occasionally interacts with over the course of the trial. In a boxy, picture frame of a set (by Peter McKintosh) embedded with crossed light bars (as part of Oliver Fenwick's lighting design), Tanji pursues the families of her brother's killers and otherwise tries to get through each day in court. Her movements are tense and muscular, as if her body is fighting itself, and she admirably fills a space that often feels too small to contain her multitudes (movement direction by Dannielle 'Rhimes' Lecointe). There's a sense that she could tear her own skin off, and that it barely contains the storm within. Yet, she takes her time with the text – that often switches into spoken word – rather than letting her character's feelings drive through it. As much as there is anger, there is also unrelenting grief, confusion and loneliness amongst others, which are dispatched with nuance and complexity. Director Nadia Fall no doubt can be credited with shaping the exquisite pace of the production.
As a whole, there's little to fault. An outstanding central performance and a compelling story are complemented by stark design that reflects the societal constraints and justice system Femi moves through. Her compulsive need for revenge is easily justified and whilst tragedy takes a different form than it does in Hamlet, this tragedy resonates more profoundly than Hamlet does today.
The Sun, The Moon and The Stars runs through 19 June.
The Play's the Thing UK is committed to covering fringe and progressive theatre in London and beyond. It is run entirely voluntarily and needs regular support to ensure its survival. For more information and to help The Play's the Thing UK provide coverage of the theatre that needs reviews the most, visit its patreon.