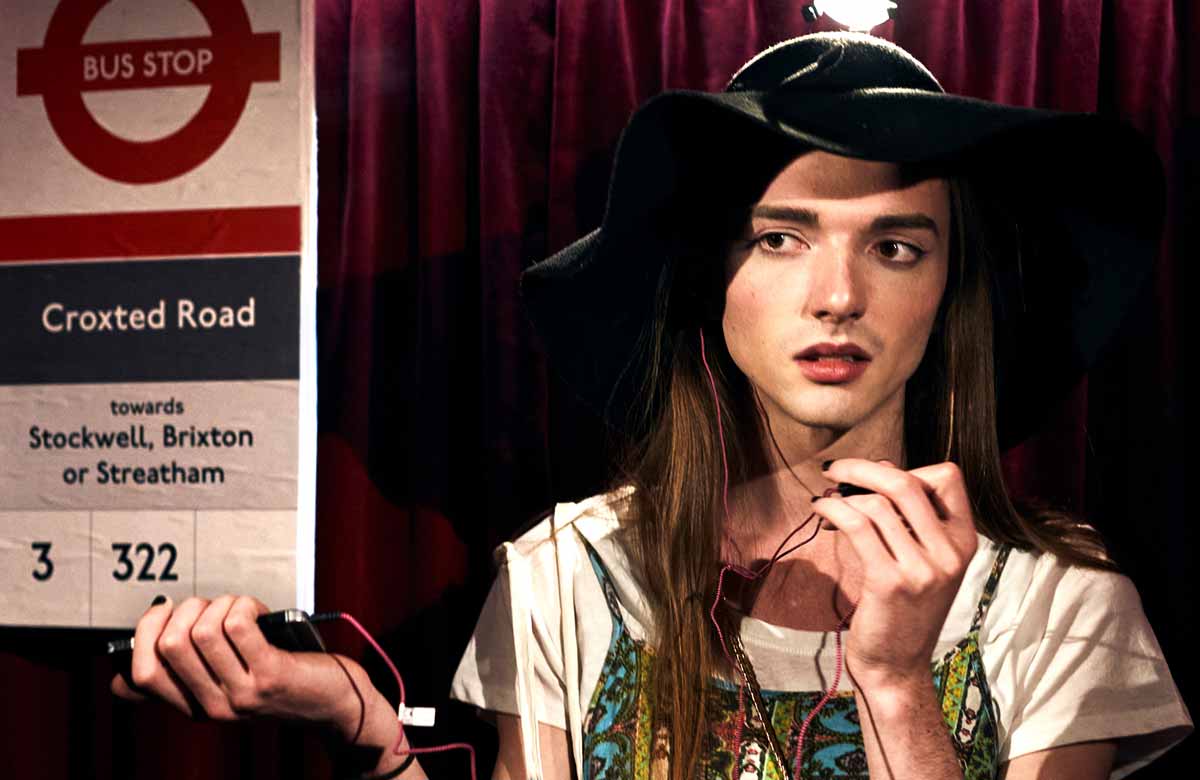 by Laura Kressly
In the middle of a dark room, I am ushered into what looks like a largish, stand-alone cupboard. With a spotlight above a single chair facing a perspex sheet covered with a window blind, there is an immediate sense of the audience becoming the performer. Given that the four mini-plays making up this event are semi-improvised character pieces relying on audience interaction, this feeling is apt. As much the playlets are highly theatrical and often disarming, they are also intimate and conversational. In a time where many of us are learning how to just be in the same space as another person, unmediated by a computer screen, Theatre for Two is comforting and familiar as well as challenging what has become normal disconnect from people and the world we live in.
Two actors each perform two of the shows. Mary Malone is up first in Macadie Amoroso's Reptile as someone taking it day-by-day after a break-up. Or rather, taking it glass of wine by glass of wine. Feeling lonely and detached from the world, she looks for meaning and connection from whoever and whatever she finds in the safety of her bedroom. She's also fighting the urge to call her ex, but girl, we know that never ends well. There's a clever reveal that firmly assigns an identity to the audience rather than leaving questions unanswered about who she's talking to. Though often left out of solo performances, explicitly contextualising the audience and performer's relationship goes a long way in justifying the show's message by making it clear why we're receiving the writer's story.
Tabby Lamb uses this device in her Gluten Free Chocolate Crispy Caramel Mini Bite, also performed by Malone. In this play – the third in the programme – we're waiting for a bus to go to a trans rights protest. In this chatty, big-hearted ode to living your truth, we are reminded of the importance of finding our chosen family and not being a transphobic bigot. Like in Reptile, Malone effectively balances delicacy with strength, and vulnerability with fight. Both of her characters are immensely engaging, and allow time and space for the audience to give as well as receive.
Unlike Gluten Free Chocolate Crispy Caramel Mini Bite, the two pieces performed by Ryan Lane centre characters trapped in their homes. Share-My-Home Companion by Gabriella Leon is the first of Lane's performances, where he plays a surrealist eccentric habituating an absurd world somewhere between Beckett, Dali and Duchamp. Here, words are reinvented, deconstructed and relished. There's also stacks and stacks of toilet paper. Linear time also seems to no longer exist, so it can be hard to keep up with the circus inside the character's head as he demands engagement with his word play. With the normal rules of the world seemingly suspended, this is a disorientating and fast piece, though one that relishes the ridiculous.
This heightened-ness is also present in the last of the four plays, The Recluse Who Lives On A Hill. An aged Hollywood diva has finally granted the press an interview, and after what is likely decades of never leaving her house and only having her memories for company, she finally has someone to talk to. She's a bursting dam of micro-stories, anecdotes and distrust for the audience/reporter, but there's also a feeling that she could turn on you at any moment. She's an utter delight, but also dangerous. It's partly exhilarating, partly intimidating, and wholly telling us off for not paying enough attention to our elders.
The whole Theatre for Two package is an innovative response to the pandemic, though the dramaturgies and design are comfortingly familiar and recognisable as 1:1 performances from the before times. Tightly curated and directed by Ed Theakston, the event is thematically unified but with enough variation to keep interest piqued. Though regular interaction with the characters means that there are some moments that are uncomfortable due to trying to work out the 'correct' response, the event is a compelling character study with important and relevant stories.
Theatre for Two tours through July.
The Play's the Thing UK is committed to covering fringe and progressive theatre in London and beyond. It is run entirely voluntarily and needs regular support to ensure its survival. For more information and to help The Play's the Thing UK provide coverage of the theatre that needs reviews the most, visit its patreon.