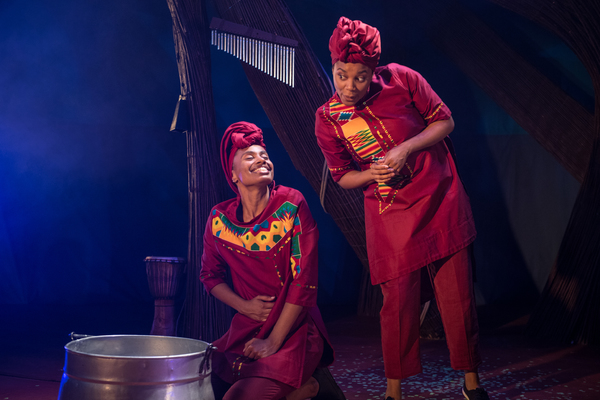 by Laura Kressly
They say that a long time ago animals could talk, just like people do now. Anansi the spider was the smartest of all these ancient creatures, and used his intelligence for all sorts of nefarious aims. His legacy of scheming lives on as a collection of stories from West Africa to the Caribbean. This new production presents three of them where the mythical trickster isn't always the nicest, but directed by Artistic Director Justin Audibert for 4-7 year-olds, they are engaging morality tales with music, interaction and excellent performances.
A sprawling tree made of reeds and cloth – a magnificent structure that begs to be climbed – forms a canopy and arches under which three Black women drum on djembes. Using music and repetition, they create a suspenseful introduction that morphs into a physically articulated Anansi that's all eyes and limbs. In the first story, he has stolen wisdom from those around him and is looking for somewhere to hide it. When a little girl from a nearby village offers to help, he dismisses her youth – a move that is reminiscent of world leaders' disregard for Greta Thunberg and other young activists working to make change. Fortunately, Anansi sees he is wrong and by ensuring everyone has a fair share of wisdom, he brings about peace and understanding.
Whilst the little ones in the audience are thoroughly entranced, adults are given plenty to mull over in this first story and those that follow. The second is a darker tale of accountability, and the last is a funny, contemporary update of a reminder not to be greedy. A circular dramaturgy satisfyingly unites the three stories and reminds us that we are all connected to each other and our actions have consequences.
The ensemble – Afia Abusham, Juliet Okotie and Sapphire Joy – demonstrate their vocal and physical versatility throughout, a great example of the talent Black British women can bring to theatre. The children in the audience are just as captivated as the adults and even though the target audience is so young, Audibert shows the universal appeal and relevance of these ancient stories to modern times.
Anansi the Spider runs through 27 October in London.
The Play's the Thing UK is committed to covering fringe and progressive theatre in London and beyond. It is run entirely voluntarily and needs regular support to ensure its survival. For more information and to help The Play's the Thing UK provide coverage of the theatre that needs reviews the most, visit its patreon.