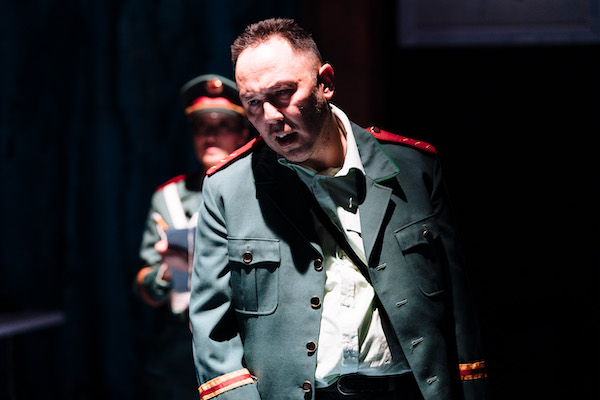 by Marc Hayes
Meaning 'father', the word Pah-La is also inflected with a term of respect; 'La' is a sign of formality, and becomes more like 'Dear Father' in a crude translation. It is a richly ironic title then. Pah-La takes aim at the social and emotional structures of patriarchal revenge, and explores a radically non-violent alternative.
Abhishek Majumdar's play is drawn from numerous interviews with Tibetan people living in exile in India, and loosely based on the events of the 2008 Lhasa riots. It engages with a political live wire and controversies around the play have abounded. Rumours it was shelved due to its politically sensitive subject matter in 2018 seem to have been only a temporary glitch. The Royal Court rescheduled, but then failed to include any actors of Tibetan heritage in its current production.
Starting on a wrong foot, it is perhaps unsurprising then that the play takes thirty minutes to find its feet. Once the actors find their stride, the play sprints ahead. By reflecting not only on the philosophical enquiries of Buddhism, but on the rights of Buddhists to practice their religion, Majumdar manages to make sweeping statements sound more or less sincere. Reflections on the nature of truth, morality, and the mind, are given a sharp, political edge: it is not simply what these characters are saying, but their right to say it which is at stake.
Designer Lily Arnold and lighting designer Jessica Hung Han Yun match these big ideas with some equally big stage imagery. At the play's heart, Daniel York Loh's as Deng is a fantastic performance as a resolute father pushed to breaking point, and in her UK debut, Millicent Wong is outstanding as Deshar, a rebellious young nun. Deshar is not so much searching for her voice, as searching for how her voice can be heard. Wong is able to carefully manage this distinction between the two very different acting styles required of her role. It is a great show of range from the performer.
In Pah-La's reflection of non-violence, I was reminded of Jude Christian's Nanjing, a one woman monologue which also champions pacifism against the backdrop of an upsetting historical event: the murder and rape of Chinese citizens by Japanese soldiers in the city of Nanjing. It is not lost on me that between these two plays, China is treated as both aggressor and victim. I mention Christian's play because, along with Pah-La, it ultimately humanises the political dilemma of borders. In Pah-La, a Chinese mother admits that her hatred is both specific and generic: she knows the man she is talking to did not kill her child, but 'I need a face to accuse'. This ability to conflate the actions of one person with the identity of a people is dangerous, but these plays seem to suggest that this problem can act as its own solution. Personalising the political, humanising your opposition, remembering the fathers, the mothers, the daughters, and the sons on both sides of any conflict. In short, remembering that a people is made up of, well, people.
We have never been more global, more connected, and yet seemed so divided. Pah-La is not a perfect play, but it is absolutely a play for our times.
Pah-La runs through 27 April.
The Play's the Thing UK is committed to covering fringe and progressive theatre in London and beyond. It is run entirely voluntarily and needs regular support to ensure its survival. For more information and to help The Play's the Thing UK provide coverage of the theatre that needs reviews the most, visit its patreon.