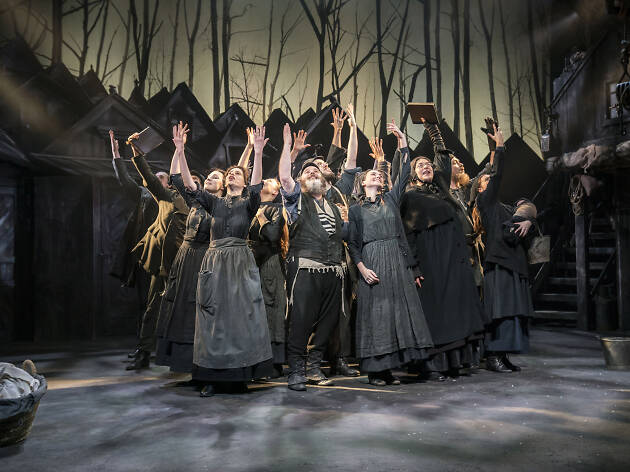 by Louis Train
When I told my mother I was moving to Russia, she sighed and reminded me that to her, Eastern Europe was a cemetery. Her grandparents had fled during the Russian Civil War, and her parents had grown up watching details of the Holocaust emerge, night by night, like a dark beacon announcing the violent and final end of Jewish life in Eastern Europe.
My mother and her mother, and their generation, faced a crisis: How to stay connected to their heritage and history when the history was so painful? The solution for many was fantasy: unreal, topsy-turvy tales of The Old Country, with fools, beggars, kings, and rabbis as the actors. It was in this context, in the 1960s, that Fiddler on the Roof first came to Broadway. The story of Tevya the poor milkman, his wry wife, and his willful daughters, based liberally on Old Country stories by Sholem Alochem, and set to new music, was a smash hit. The Jewish diaspora had a poignant, clever, fantastical show to rally around.
Trevor Nunn's new production of Fiddler, which opened at the Menier Chocolate Factory in December, and transferred to the Playhouse Theatre on the West End this week, takes a bold and counter-intuitive step back from the fantasy world that the 1960s demanded. It is darker, more tangible, more real. Actors touch each other in a way they didn't in the 60s, cry with more passion than they were allowed to then. The performers move through the audience, demanding, as they pass you by inches, not to be watched as fools and jokers but to be seen as living, breathing, suffering people.
A century now separates the present from the Russian Revolution and there are ever fewer living Holocaust survivors each year. What once was too real to be comfortably depicted has become now the subject of intense artistic inquiry. It would be too bold to say that Nunn has elevated Fiddler – nothing, frankly, could be better than Bea Arthur and Zero Mostel, working under Jerry Robbins – but Nunn has transformed the show, gently, into something new, and more relevant. It would be too predictable to say that Nunn has discovered the 'human element' in the show – and anyway, it was always there, to some degree. It would be right, maybe, to say that Nunn and his brilliant team have pushed Fiddler to work harder than it ever has before, playing quadruple duty as a comedy, a tragedy, a spectacle, and a study in human suffering.
Andy Nyman and Judy Kuhn lead a halogenic cast. You know the actors have done their job right when you're surprised they can dance. But he's a rabbi! Likewise, audience members around me had to restrain themselves from calling out, cheering, and gasping. Despite – or maybe because of – the song and dance, they had lost themselves in the show.
By happenstance, I sat next to a woman from Belarus. We chatted a bit in Russian about the show, ourselves. We cried at the same moments, laughed at the same Yiddishisms. As I was leaving the theatre, on impulse, I turned and asked, in Russian: "Are you Jewish?"
She paused a pause I know well – an assessment of danger, a heart racing – before answering, "Yes."
I told her, "Me too." And she put her hand on my shoulder.
It meant nothing, but it meant everything, to know we had connected through this language that was meant to have been dead to us, over the suffering of characters who were meant to have been folly. As Fiddler reminds us, these are modern times, and things don't stay how they're meant to be.
Fiddler on the Roof is currently booking through 28 September.
The Play's the Thing UK is committed to covering fringe and progressive theatre in London and beyond. It is run entirely voluntarily and needs regular support to ensure its survival. For more information and to help The Play's the Thing UK provide coverage of the theatre that needs reviews the most, visit its patreon.