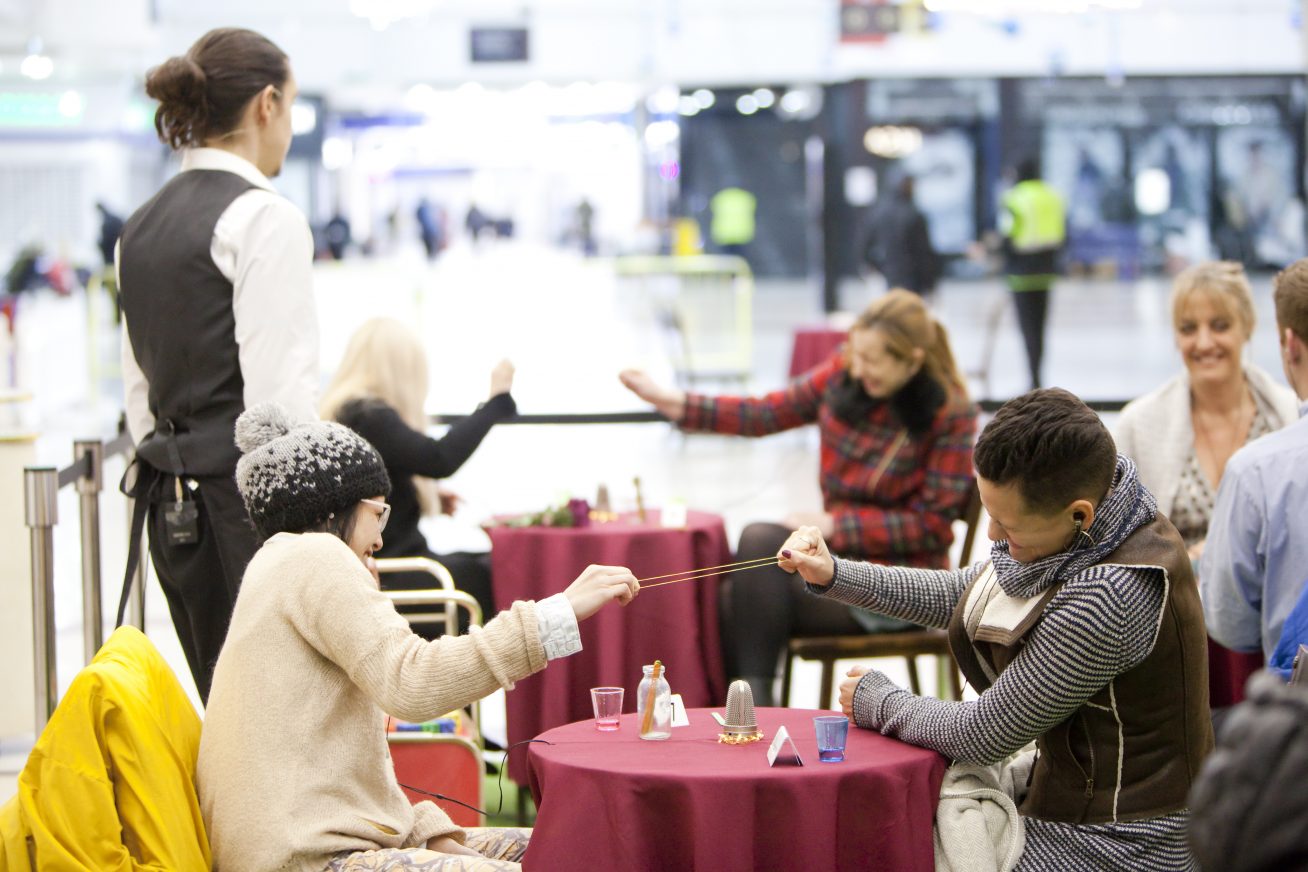 by Laura Kressly
I haven't dated since 2004. Yet despite this, I find myself sitting down with a stranger in a restaurant serving up a menu of activities, games and binaural sound prompts instead of food. These are meant to foster an intimate connection with my date, who I have just met courtesy of a cheerfully efficient stage manager/maitre d'.
Sarah* is part of the venue team, and I am relieved that – like myself – she's there for  work rather than to have an actual date. I immediately disclose that I'm press and have a partner, but am there through the nebulous criteria I use to select what I review – "It sounded interesting." I feel guilty when she tells me she's single, though; this could have been an opportunity for her to meet someone available.
We are told to don headphones shortly after sitting down, and through them we are provided with instructions after some unstructured time to get to know each other. Sarah hasn't worked there long, and she's part time. Her other job is at the Jane Goodall Institute, and she's vegan. I feel worse, because she's definitely my type and we have several common interests – the arts, animals and environmentally conscious dietary choices, though I confess my struggle to give up cheese. I decide it would be weird and boundary-crossing to tell her I'm into her, so I can only hope she doesn't read this thing that is supposed to be my review of this interactive performance event.
Cutting through the friendly chatter, a voice asks us to contemplate our date – how much can you really know a person? Are they someone who could hurt you? If things go well now, could they fall apart later? Though these aren't things necessarily considered on a first date, it's a somber reminder that initial romance never lasts and sustaining a relationship isn't easy. The combination of activities, vulnerability and despair is well balanced, though there are times the juxtaposition is so extreme that it comes off as funny rather than provocative.
Sarah and I laugh a lot, as do the people at the other tables. It's that self-conscious laughter that arises from the artifice of a first date and the things we are asked to do/share, but there are several diversions that add humour, reflection and profundity to the experience. The waiter's recent troubles with dating are narrated to us which moves us to sympathise, but his later attempts to meet women on the street are uncomfortable. We ask each other questions, try to determine if we're a suitable match and meditate on the people around us. There's a lovely acknowledgement of balancing expectations with reality and a teasing reminder that we are but tiny individuals in a vast universe.
Despite some in-person awkwardness and some rather dark monologues we consider through the solitude that our headphones create, I go home smiling and hope I bump into Sarah soon.
*not her real name
Binaural Dinner Date runs through 2 March.
The Play's the Thing UK is committed to covering fringe and progressive theatre in London and beyond. It is run entirely voluntarily and needs regular support to ensure its survival. For more information and to help The Play's the Thing UK provide coverage of the theatre that needs reviews the most, visit its patreon.