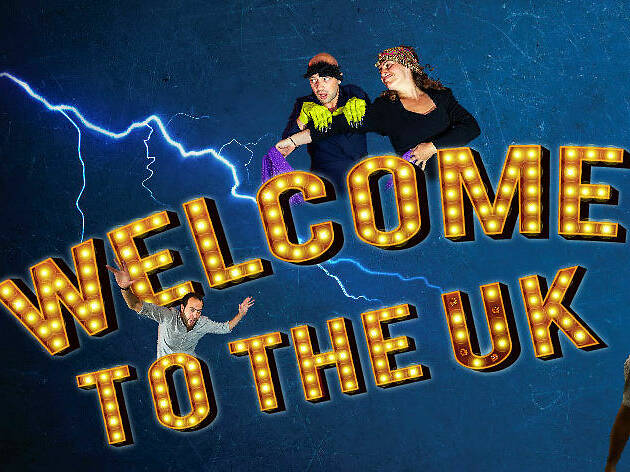 by Laura Kressly
It seems like the Bunker has been transformed into a small-scale, DIY circus, setting the mood for a playful and uplifting story. Instead, an ensemble of 16 enacts a series of grotesque and infuriating sketches depicting refugees' and asylum seekers' experiences navigating the UK's racist and classist 'Hostile Environment'.
Structured like BBC's 'Little Britain', the production's similarities to the TV show end there. The devised piece is commendably critical of the country's racism, xenophobia and classism rather than endorsing it and exploiting gender, class and racial stereotypes.
An East London ringmaster wrangles a passionate and angry group of characters, including deplorable accordion player with a wig so large she's dubbed 'evil squeezebox cloud' in my notes. As the voice of the Home Office and Theresa May, she elicits tangible disgust. It's an effective contrast to the disempowered people waiting months on end for their status to be granted. She is countered by a Syrian man who has nightmares of his left-behind wife's execution, an Iranian who enthusiastically tries to befriend everyone he meets and a man working several jobs who aspires to be an actor. I only wish their characters were listed in the programme – naming them humanises them, whereas the Home Office strips them of their personhood and treats them worse than animals.
It's clear these characters represent a tiny sample of those trying to navigate a vicious and nasty system. Many fail, and those that succeed still have the odds stacked against them – after receiving refugee status, they have 28 days to find a job, somewhere to live and get a National Insurance Number. It's a near-impossible task for someone who has arrived in the UK with little or nothing and faces daily discrimination. In their satirical depiction, the cast composed of refugees, British and continental European citizens wrestle back the dignity the UK has robbed them of – though distressing as some scenes are, they are also empowering.
Dramaturgically, there are some extraneous physical transitions that add unnecessary length and stall the action. Though the performance is quite physical, the scenes are driven by dialogue rather than movement so these filler moments clash. Though they could be paralleled to circus acts, there aren't enough of them to act as this device.
This is an emotional, engaging and – most importantly – vital piece of theatre. If only the government could be made to watch this, perhaps it will see that its inhumane policies are hurting real, actual people full of life, love and dreams.
Welcome to the UK runs through16 February.
The Play's the Thing UK is committed to covering fringe and progressive theatre in London and beyond. It is run entirely voluntarily and needs regular support to ensure its survival. For more information and to help The Play's the Thing UK provide coverage of the theatre that needs reviews the most, visit its patreon.