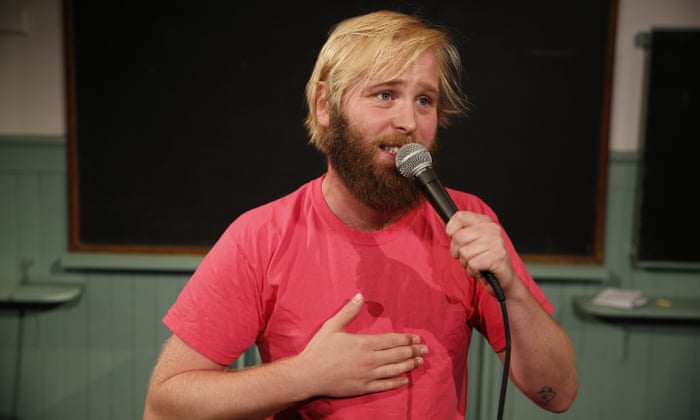 by Laura Kressly
James Rowland's trilogy about his best mates Tom and Sarah began with Team Viking two years ago on the free fringe. A Hundred Different Words for Love followed, and the story now comes to a close with the funny and tragic process of growing up that begins with donating sperm to Sarah and her partner Emma.
There's so much more to the story than wanking into a cup, though. The immature actor James is forced to grow up and help Emma and Sarah struggle over hurdle after hurdle. Like his previous shows, unexpected tragedy proves things don't always turn out as they should, even for the best of people.
Rowland's storytelling is punctuated with live music and stories from their childhood, which focus on his experience growing up in a conservative, church-going family. Sarah, Tom and he got up to all sorts during Sunday services and Christian rock festivals, made all the more naive by his artistic, adult life donating sperm to a lesbian couple. It's also a lovely, liberal twist on the religious, pro-life, pro-(heterosexual) family ethos of Christianity.
His emotional engagement with the material and his performative storytelling brings the trio totally to life. He compels the audience to rally to his side and accompany him on a storm of pure joy and appalling devastation. The only troubling issue is his lack of engagement with the obvious emotional labour imbalance between himself, a cishet white man, and Sarah and Emma. He turns it into a joke more often than not, lending a sour taste to their relationship.
It's such a simple format, but Rowland's gift as a storyteller is a remarkable one. A compelling performer with a great instinct for dramaturgy and building relationships with his audience make a winning combination in this show that evokes laughter one second and tears the next.
Revelations runs through 26 August.
The Play's the Thing UK is committed to covering fringe and progressive theatre in London and beyond. It is run entirely voluntarily and needs regular support to ensure its survival. For more information and to help The Play's the Thing UK provide coverage of the theatre that needs reviews the most, visit its patreon.