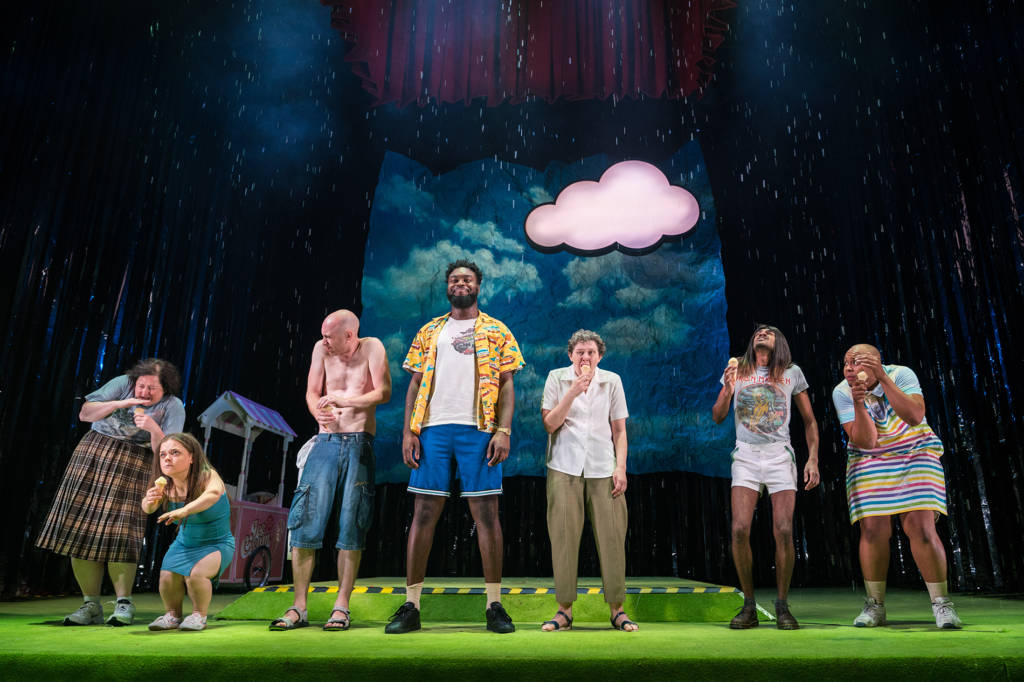 by guest critic Amy Toledano
Walking into the Royal Court to see Rory Mullarkey's new show Pity, one is welcomed by a full brass band, a working ice-cream stand and a heck of a lot of colour. The energy in the room is buzzing but has a slight edge. From the first moment it is evident that this show is going to be a new theatre experience for me.
A brilliant and highly energised cast bring us this story of a typical town, where typical things happen. Until they don't. From the moment the first bolt of lightening strikes, it is clear that Mullarkey is intent on taking the audience through a saga of war, bombings and confetti that leaves nothing to the imagination.
It is impossible to single out any one performer, as the entire cast works together perfectly, a well-oiled machine that has slick choreography and highly energised movement to keep the audience on their toes.
The language is flowery and dances along with the movement of the piece, drilling home a message of atrocities and bloodshed in a world of ignorance and self-absorption that is so prevalent today. The set is heaving with props and the appearance of a motorised army tank on stage makes it apparent that no expense has been spared for this production.
While the show delivers an entertaining and often ludicrous performance, the pandemonium starts to drag and it feels as if the show may never end (although this may be intentional).
Pity will keep you guessing with what is coming next but also have you hoping for a few moments of calm amongst the mayhem that is this show.
Pity runs until 11 August.
The Play's the Thing UK is committed to covering fringe and progressive theatre in London and beyond. It is run entirely voluntarily and needs regular support to ensure its survival. For more information and to help The Play's the Thing UK provide coverage of the theatre that needs reviews the most, visit its patreon.