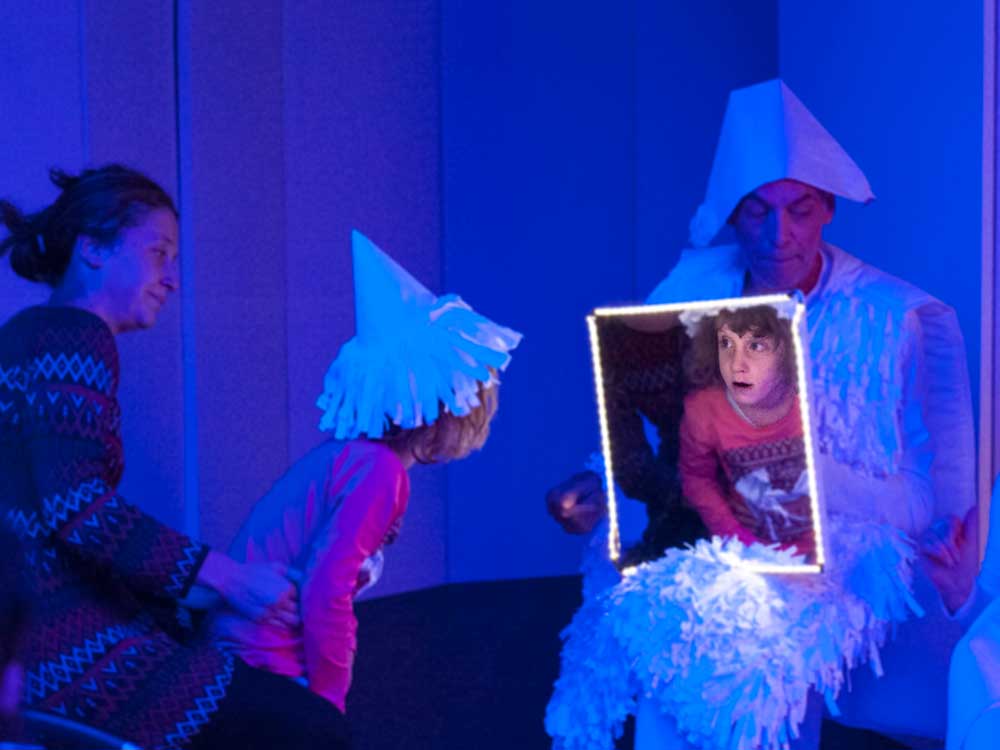 by guest writer Steven Strauss
New York's Lincoln Center invited UK-based Oily Cart to be one of three theatres from outside the US to perform at the Big Umbrella Festival, the first of its kind dedicated to such audiences.
In addition to Oily Cart's Light Show, the one-month festival includes other one-off events, symposiums, and professional development opportunities for artists, arts professionals, presenters, and audience members interested in expanding the theatrical spotlight on this shamefully under-served community.
Simply put, major theatres around the world should really be funding such festivals all the time. To find out more about the process of bringing the Big Umbrella Festival to life, we interviewed Peg Schuler-Armstrong, the Director of Programming and Production for Lincoln Center Education, the organizers of the festival.
S: How did you decide which theatres to invite to the festival?
P: Just like when you're planning a season, there were a lot of factors that came into play. There are a number of wonderful theatre companies making work internationally, and it was just a matter of our budget, frankly – how many companies could we support all at one time, the availability of the companies, and other scheduling logistics. Once the companies agreed to participate, the choice of work was largely theirs. Rather than us thinking, "Will you do this particular song?" or "Will you perform this particular choreographic work?," we like to start from where the artist is and what excites them. We were thrilled when Oily Cart wanted to bring Light Show.
How did you find Oily Cart? Were you familiar with their work already? Or did you go looking for theatres that specialize in this type of work when programming the festival?
P: All roads lead to Tim Webb [Oily Cart's Artistic Director]. Oily Cart was in New York City a few years ago doing a production of a show called Ring a Ding Ding. I'm not someone who typically likes to play theatre games. I'm the "watching from the sidelines" one. I'm an administrator. I'm a programmer. I'm not an artist. But only Tim Webb could get me to let go of all those inhibitions and really try to immerse myself. It really lit a fire in my belly, particularly the one-on-one interactions that they have with their audiences.
There was some synchronicity going on because, at about that same time, we were trying to figure out Lincoln Center Theater's place in the world. We were re-branding. The campus had just undergone this major renovation, and we were looking for big ideas to match. We had opened up the campus to everyone, yet there was still an audience that we weren't serving. So that's when we enlisted Tim's help. He came and worked with the company, and he helped all of us on the staff. It's not just the artist who has to be open to the experience of the young person. It has to be the entire organization seeing everyday experiences through their eyes, what it's like to encounter new places, new things, transitions, all of that. So when we came up with the idea of doing the festival, there was no way we were going to present the festival without featuring Oily Cart very prominently.
S: Regarding the role that the Big Umbrella Festival plays within the larger Lincoln Center landscape, how much do you consider the identity of Lincoln Center when programming? And how do you think the festival either fits into or expands that identity?
P: I'm going to sound like I'm contradicting myself, but the work we do for young people is both like the adult work, and not like the adult work at all. We strive to present really quality music, theatre, and dance for young audiences not just because they're the future ticket buyers of tomorrow, but because they're young people who deserve access to quality works of art that are for them. And that's been our guiding philosophy for programming work for schools and for programming work for families. We applied those same principles to this festival.
It may seem like work for kids on the autism spectrum is singular and separate from everything else, but it's really very much not. It's firmly in Lincoln Center's wheelhouse because the work is beautiful and it's rich and it's complex. It is for young people where they are, not to teach them anything, but to give them access to art as a way of looking at the world, and to help shape their own perceptions and thoughts, and to just be able to share the beauty of it all. The festival is not just a one-trick pony. It's very much aligned with what Lincoln Center wants to do.
S: Is the plan to make the festival an annual tradition?
P: It's not going to be annual. It takes a lot of time and planning and, frankly, fundraising. And you need a little bit more lead time for a project as big as this. We're very hopeful that we'll be able to do it bi-annually. We're going to see how it goes and we're hopeful. But, festival or no festival, we are 100% committed to producing work for this audience specifically.
S: Do you have any thoughts on how to make all theatre more accessible?
P: I think it would be a much different conversation if more artists, theatre devisers and playwrights approached theatre as a community experience. We get in a place where we have to sit quietly and watch, which isn't necessarily a bad thing all the time. That artist has something to say, and they want you to listen to it and filter it through your own experience. But most work for children is either devised or written with the idea that theatre is communal. That we're all in this together. We have made this particular, beautiful, marvelous world, and we are ALL inhabiting it.
One of the festival's core objectives is to get more people to make work like this, and to get more people seeing the work, so we came up with these symposium tracks outside the professional development tracks: one is for artists and the other is for administrators. They give artists the opportunity to get a peek into the process that theatre companies like Oily Cart go through, and to start getting them more comfortable and more excited by giving them the tools to make meaningful work for this audience.
But just because artists are making the work doesn't mean there's necessarily a place for people to go. So what we wanted to train administrators as well. Lincoln Center can do a Big Umbrella Festival, but we're not ever going to meet the demand for this audience. So it's really one of our goals to get people trained up and meeting each other, and for artists to exchange ideas with each other, and for administrators to have people to contact. And we ask each other, "What are your particular challenges? How did you face this? How are you transforming your space and your team?"
I have to say, the future's pretty bright.
The Big Umbrella Festival runs through 6 May.
The Play's the Thing UK is committed to covering fringe and progressive theatre in London and beyond. It is run entirely voluntarily and needs regular support to ensure its survival. For more information and to help The Play's the Thing UK provide coverage of the theatre that needs reviews the most, visit its patreon.