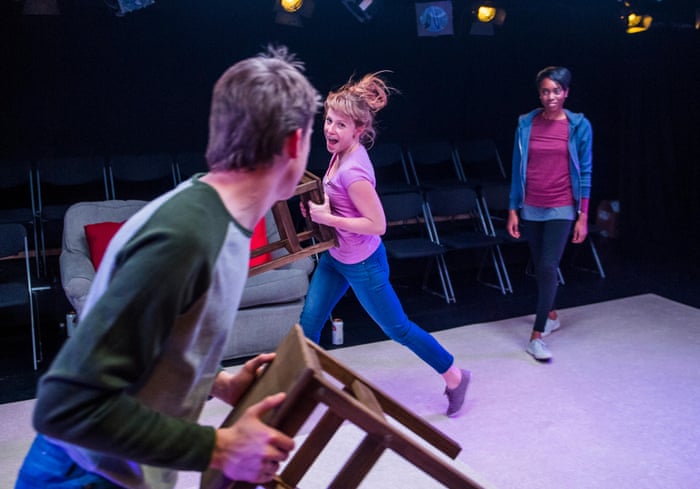 Sam is a young, single mum living in a council flat in Peckham. Having gone through the care system and her boyfriend leaving her after her second son was born, she has no one. When she meets socially inept Tom, an MA student in the flatshare above her, after losing her job as a cleaner, he creates an opportunity for friendship, sex and an escape from her kids. But Sam was born a victim, and a victim she remains. In this discourse on social class, parenting and gaslighting, playwright Phoebe Eclair-Powell incorporates Greek tragedy and a commentating chorus to expose the perils of growing up with no support network.
This is one of the young writer's first full-length plays, and she's still finding her feet. Fury has a great concept and characters, and the use of the chorus is a fantastic touch that adds depth and structural variation, but the execution if the ideas isn't quite there yet. Some sections of the script don't quite fit the main thread, like her beach outing with an old friend, and others rush the narrative progression. The chorus fills in information left out of the scenes, but this sticking plaster over the gaps is still unsatisfying and overly simplistic. The relationship between Sam (Sarah Ridgeway) and Tom (Alex Austin) escalates a bit too quickly to be plausible, though some slight extending would go far to rectify this.
Ridgeway is excellent as Sam, with a nervous energy and a risk of exploding into violence at any point, making Tom's manipulation all the more believable to social services. Austin is slimy, awkward and initially seems harmless, but quickly reveals a dark interior. Though he plays the role well, it's a challenging one because he transforms so quickly. His unlikely behaviour after his initial awkwardness is a powerful reminder that anyone is capable of committing horrendous acts, particularly against vulnerable people. The chorus of three (Naana Agyei-Ampadu, Daniel Kendrick and Anita-Joy Uwajeh) also play additional characters, flipping between them and non-characters with ease and agility.
Director Hannah Hauer-King uses a simple set by Anna Reid to focus on the text. Her in the round staging is a great choice that adds to Sam's rising paranoia – everyone is indeed watching her every move. The chorus uses seats set into the audience, which although it keeps them ever present, it is unclear why the audience/actor boundary is blurred. She occasionally struggles to clarify space what with the mostly bare stage, but the dialogue usually explains well enough. Hauer-King taps into Eclair-Powell's poetry with instinctual finesse, making some moments particularly moving.
Though the ended is rather different from the Medea that the show's marketing compares it to, there is still senseless tragedy brought on by a man's deliberate actions against a vulnerable woman. Fury shows much potential from the emerging writer and director, and contains some vital messages about growing up poor and female that, with some small adjustments, will be heard loud and clear.
Fury runs through 30 July.
The Play's the Thing UK is committed to covering fringe and progressive theatre in London and beyond. It is run entirely voluntarily and needs regular support to ensure its survival. For more information and to help The Play's the Thing UK provide coverage of the theatre that needs reviews the most, visit its patreon.