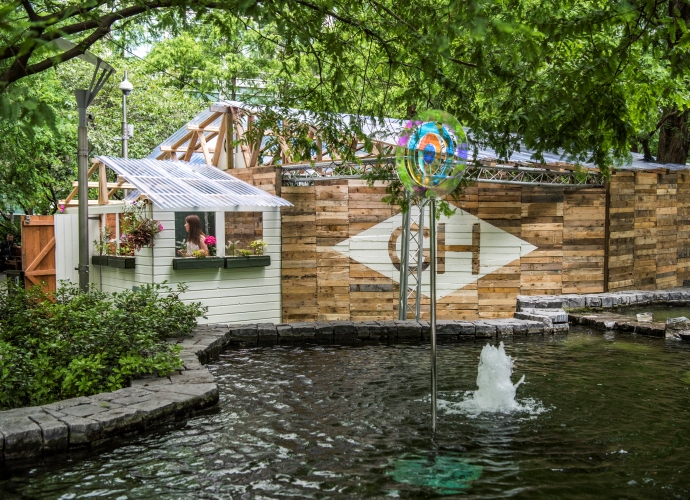 by Diana Miranda
The Greenhouse Theatre is a zero-waste, pop-up venue created to motivate people to take action in response to climate change and, through the power of storytelling, help build individual emotional connections with the immediate natural environment. As part of their summer programme and written by playwright and climate activist Henry Roberts, 12 follows a couple who help each other find a sense of self in a world in crisis. He designs buildings and can never quite shake the feeling that every creation is deemed to fade away. She is a linguist and has a passion for words as a means to bond with our surroundings. Together they navigate a world in which both words and landscapes seem to be disappearing as if hit by an irreversible pandemic, and try to find ways to inspire sustainable and meaningful connections.
12 follows the couple over several years, with tape-recordings recounting memories whose significance grow gradually. The plot unfolds through constant time jumps that are a bit hard to follow despite Lata Nobes' thoughtful direction, and the performers' shifts being less palpable in the show's first half. However, the unflashy nature of a zero-waste venue requires stamina, and in-the-round staging uses the whole space, with both performers moving around like clockwork. Roberts' writing evokes natural landscapes that gain poignancy as the couple looks around with delight, and points at invisible flowers and ocean waves. Nobes also uses movement as metaphors for the events that permeate the character's journey, like when they wash their hands above their heads, staring blankly into space: his, immaculate, hers, covered in mud.
Ayesha Milner-Glover shines the brightest and delivers a smooth interpretation of the joyful and passionate linguist. Her character charms her partner, who is more of an introvert. Leyon Stolz-Hunter's performance is poignant in the quieter moments. Other times feel like the performance is somewhat detached, such as where the word flow stumbles, but he brings truth to the most delicate moments and the chemistry between both characters keep the show even.
The awareness of nature evoked by 12 is reinforced by Anna Webb-Sanchez's sober design, as well as the immersive feeling of being in a theatre built with recycled materials at Jubilee Park in Canary Wharf, surrounded by trees whose leaves hum above the translucent ceiling and by the – not so – occasional sound of raindrops.
Roberts' moving play explores with subtlety the theme of natural heritage, with a balance between bliss and emergency. It draws a line between language, environment and memory in a tender story of hope and deep affection that questions what is worth preserving as we lose our grasp of the world around us.
12 runs through 15 August.
The Play's the Thing UK is committed to covering fringe and progressive theatre in London and beyond. It is run entirely voluntarily and needs regular support to ensure its survival. For more information and to help The Play's the Thing UK provide coverage of the theatre that needs reviews the most, visit its patreon.