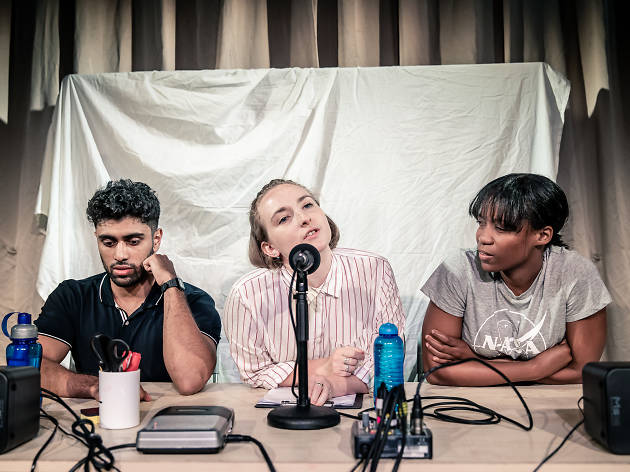 by Meredith Jones Russell
Three conspiracy theorists have gathered to unpick discrepancies and inconsistencies in the 1932 photograph "Lunch Atop a Skyscraper". With a police investigation-style wall behind them on which they make frantic notes and pin incriminating images, Rose Wardlaw, Azan Ahmed and Shannon Hayes attempt to collate and record their own theory about how and why the photo was taken.
Their speculation starts off reasonably and gradually escalates, in what could perhaps have been a relevant and illuminating discussion of facts, debate and fake news in this post-truth era. However, the piece never seems to quite get that far. Talk-heavy, the piece keeps the three characters behind a desk for the majority of the hour and 15 minute running time, possibly recording some kind of podcast about their findings, although this is never really explained.
Wardlaw, as the amusingly tight-lipped, most zealous of the bunch, endeavours to keep her companions focused as they increasingly lose patience. It culminates first in a weird moment of conflict with Hayes, and then a final, even more bizarre coda which loses the significance it seems to be aiming for in its complete ambiguity.
The dialogue is snappy and the performances are strong, but despite such promising subject matter the play never really seems to go anywhere. Although the characters say a lot, the play itself doesn't say very much at all.
Conspiracy runs through 25 August in Edinburgh.
The Play's the Thing UK is committed to covering fringe and progressive theatre in London and beyond. It is run entirely voluntarily and needs regular support to ensure its survival. For more information and to help The Play's the Thing UK provide coverage of the theatre that needs reviews the most, visit its patreon.