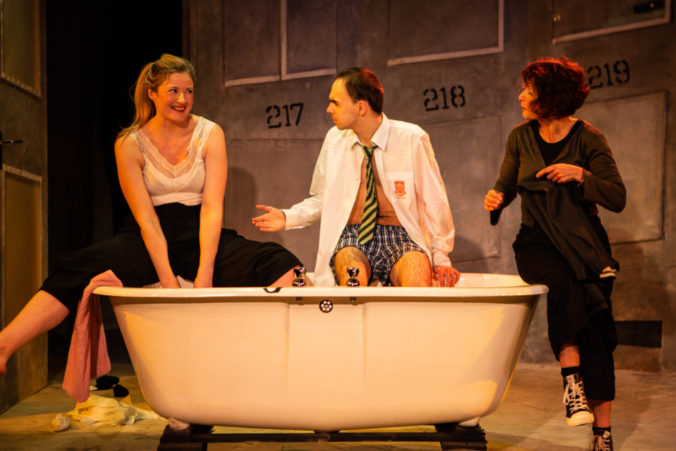 by Lou-Lou Mason
I've devoured dystopian fiction for many years and recently realised the novels I've read might actually be handbooks for how to survive the future. I've wondered when theatre is going to really capture this complex genre. Then along came The Process.
Jo is a successful, talented and competent woman who happens to be deaf. It doesn't appear she's been held back by her deafness; in fact, her skills are such that she's CEO of a renowned tech firm. The story is perfect in its modern-day accessibility: The Process is an app created by Jo's company, that measures our individual social and economic worth and provide a 'credit' score based on our contribution to society. All is recorded from huge success to petty demeanour and the lower our score the less value we hold, sometimes to terrifying outcomes. Of course, those with any kind of disability or difference could well be caught in a crossfire. So far, so 2025. Yet, as we learn, Jo has no idea as to the tragic consequences her creation could bring.
Positioned in the real-life context of the current dissolution of human rights legislation that will invariably happen post-Brexit, and the continuing isolationism ploughing through England specifically, this piece of theatre couldn't come at a better time.
With multi-roling actors providing strong performances all round, terrifying projections,
Oliver Vibrans' and Simon Toner's menacing and brilliant sound design, beautifully integrated BSL/dialogue interpretation in some parts and deliberately not in others, the complexity of presentation pulls the audience in. The fully-realised multimedia presentation opens with projected context: 'Not everyone will understand everything. And that's the way it's meant to be', but understanding is exactly what this production intends to bring. Many beautiful messages are woven throughout the piece that deal not only with disability and access, but also the inherent imperialism that has reared its ugly head in recent years and the wider impact that has socially.
There are some truly edge-of-chair moments, those that great theatre is made of and that no other medium would achieve. One such scene, without any formal dialogue, presents the paradox between the hearing and the deaf world and allows us to experience the chasm that often exists where compassion and support is lacking, especially when those with privilege refuse to compromise. A warning of our times.
It's not perfect theatre. Sarah Bedi provides a solid script and direction, but some polishing might help – there are a couple of clunky bits of set, and a few lines of unnecessary dialogue. It may benefit from some deliberately choreographed blocking in the unstructured moments, but none of that really matters. The reach of this piece isn't just across the hearing spectrum, instead it goes much deeper – straight to the heart, at the possibility that a version of this story could well happen. And soon.
I hope The Process has a life beyond its initial run, but it's absolutely right that this excellent show is staged at The Bunker, such an important venue which has grown a wonderfully appreciative audience base over the years. The Bunker's reputation for platforming deep, often understatedly political work will render the London theatre scene far worse off for its closure in March. The Process will be a significant programming feather in Chris Sonnex's cap.
The Process runs through 1 February.
The Play's the Thing UK is committed to covering fringe and progressive theatre in London and beyond. It is run entirely voluntarily and needs regular support to ensure its survival. For more information and to help The Play's the Thing UK provide coverage of the theatre that needs reviews the most, visit its patreon.