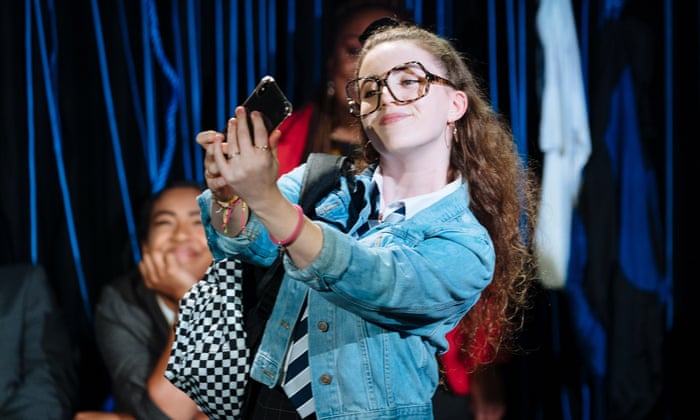 by Meredith Jones Russell
Is what we like more important than what we believe? This is the question posed by a National Youth Theatre (NYT) company bubbling with enthusiasm, excitement and talent.
Tatty Hennessy's brilliant new play asks the audience to play jury in the trial of the people versus Mark Zuckerberg in this energetic and witty take on the perils of the internet and being constantly connected. Meanwhile, a variety of other story threads see a Labour candidate consider a deal with a tech company promising to optimise her online campaigning, her daughter DMing a stranger on Twitter, and a hysterical fourth-wall-breaking social media magic trick live streamed on Facebook, helped by a dedicated Wi-Fi account set up in the theatre especially for the show.
The young cast, most of whom will never have known life before the internet, show no signs of struggling with the complex, statistics-filled script or the deep questions it asks of us from a social, political and moral standpoint. Showing off their music, movement and comedy skills, relishing the opportunity for slick on-stage technological set pieces and diving in with all guns blazing, they are an absolute delight and look to be enjoying every minute.
It is easy for anything dealing with contemporary technology to feel dated almost as soon as it starts, with references quickly getting tired and unsubtle, but Hennessy's sharp script is slick without being glib and gimmicky. Occasionally the play casts its net a bit too far, with several of its storylines left frustratingly unresolved by the end, but it is so brimming with ideas and chock-full of charm and good humour that it deserves all the likes and favourites it will inevitably receive.
Tech giants undoubtedly have a long way to go to clean up their acts, but as far as the world of theatre is concerned, with these youngsters the future looks very bright.
F. Off runs through 25 August in Edinburgh.
The Play's the Thing UK is committed to covering fringe and progressive theatre in London and beyond. It is run entirely voluntarily and needs regular support to ensure its survival. For more information and to help The Play's the Thing UK provide coverage of the theatre that needs reviews the most, visit its patreon.