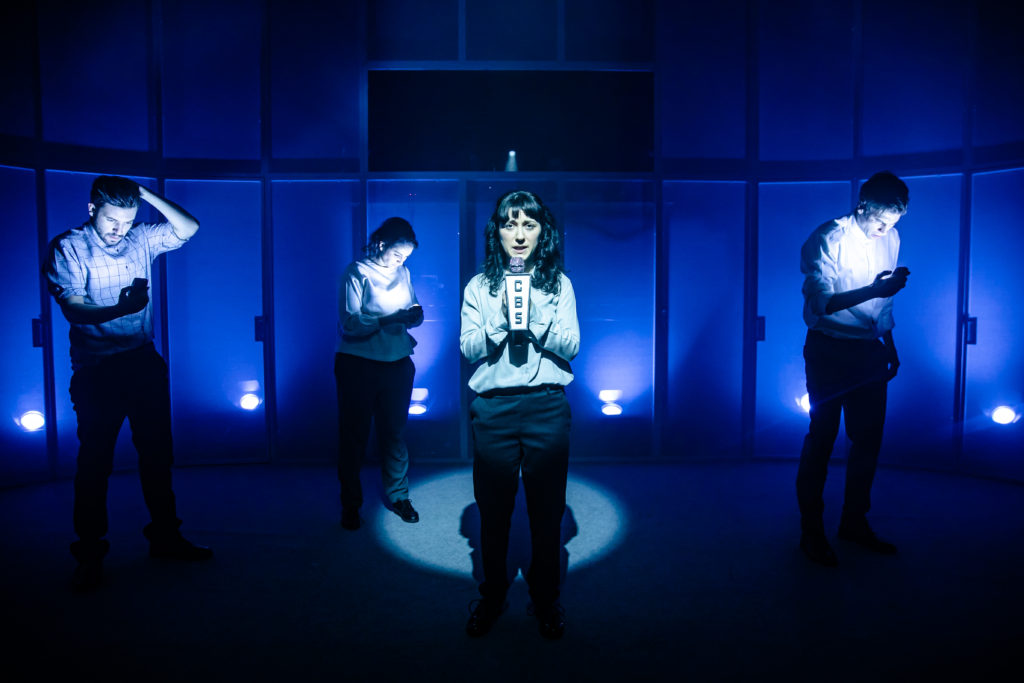 by Laura Kressly
Orson Welles' 1938 broadcast of The War of Worlds caused widespread panic with its reports of an alien invasion in New Jersey. Or did it? Did the newspapers exaggerate the reaction to sell papers, the way websites now use clickbait for hits?
Rhum and Clay's version of the story delves into the nature of truth, fake news and whether or not it's morally acceptable to lie for the sake of a story. The multi-rolling ensemble of four depict British podcaster Meena's trip to rural New Jersey to investigate the effects of fiction on real people. Interspersed with segments from the radio broadcast, this is a smart, physical performance that provokes critical reflection on our need for good stories and the desire for them to be true.
A historical family affected by the 1938 broadcast drives Meena's investigation, but she discovers more than she anticipates in 2016, pre-election America. This story is fairly evenly balanced by depictions of the radio broadcast within the CBS studio, thought the interplay between these two narratives is limited. They integrate more fully near the end, but a greater connection between them earlier on would be welcome.
The Lecoq-trained company are a well-oiled machine and a pleasure to watch in the coolly industrial vintage radio studio. Mona Goodwin is a sweetly driven Meena, with an undercurrent of ruthlessness that is deliciously surprising. Amalia Vitale's versatility is a highlight, particularly in her depiction of a small-town mum trying to hold her family together and keep her dead mother's reputation safe. Matthew Wells' and Julian Spooner's interpretations of conservative, suburban men are disturbingly spot on, eliciting a knee-jerk dislike.
This isn't a confrontational piece of theatre, but its politics are undeniable. Its call for us to question the news and the stories we absorb, as well as criticising the fake news machine and the ad revenue behind it, combine with compelling staging and polished production values to make this a perfect play for our troubled times.
The War of the Worlds runs through 9 February.
The Play's the Thing UK is committed to covering fringe and progressive theatre in London and beyond. It is run entirely voluntarily and needs regular support to ensure its survival. For more information and to help The Play's the Thing UK provide coverage of the theatre that needs reviews the most, visit its patreon.