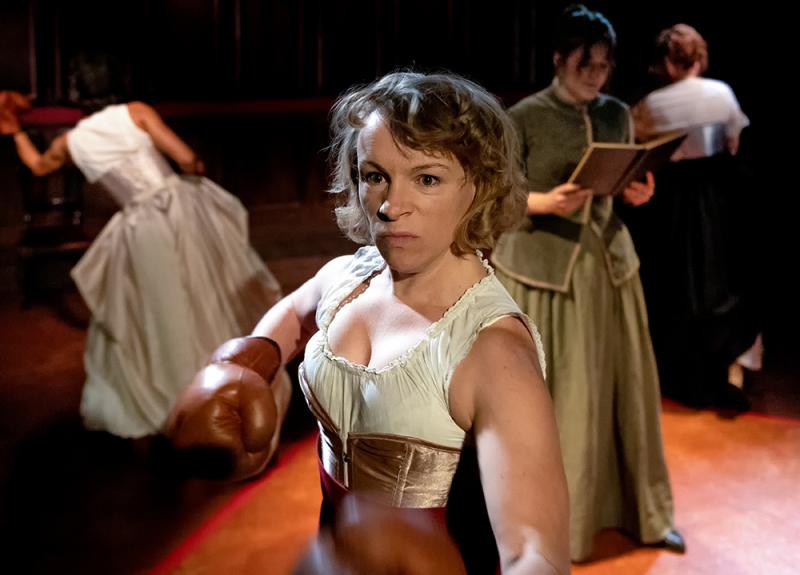 by Gregory Forrest
When you think of women in the 19th Century, you probably think of drawing rooms and tea parlours; you might even think of the early suffrage movement. You probably don't think about boxing rings.
That's why Joy Wilkinson's The Sweet Science of Bruising feels like such a riotous shock to the system. Picking at several threads of history – 'lady boxing' was a Victorian reality, though artistic liberties have been taken aplenty here – this play weaves together a vibrant tapestry of British gender politics during one of its most complicated apexes. Best of all, it nails this with a story that breaks down stereotypes of history. HERstory here we come.
The cast all round are fantastic. Fiona Stokes is a bundle of energy as Northern fireball Polly Stokes, while Kemi-Bo Jacobs excels in quite the opposite way: her Anna Lamb is rich, soft, subdued and – between the cucumber sandwiches – ferocious. Caroline Harker as Aunt George is another quiet bombshell, throwing around timely questions about political activism and gender roles. How can the women's equality movement reconcile self-interest with the interests of the collective? In short, can we unify for selfish reasons? With the left wing currently on the ropes, and feminism delivering a 'Me Too' blow to the patriarchy (winded, but far from defeated), these questions feel bitingly contemporary.
It comes as no surprise that Wilkinson is on the writing team for Chris Chibnall's upcoming 11th series of Doctor Who, a clean slate for the show with Jodie Whittaker in the title role. The Sweet Science of Bruising feels televisual, with multiple interwoven stories bouncing around different locations in short, snappy scenes. It's like a Netflix series on stage: a 19th Century GLOW.
This is both a compliment and a criticism. It's entertaining, fast paced, accessible, and filled of compelling characters and a lot of smart comedy. At the same time, it never feels
particularly theatrical. Scene transitions feel like a camera cutting away (but with the lag of actors wheeling furniture on and off) and too often the actual 'dance' of the boxing ring takes place offstage. When fighting is shown, the choreography is clear enough, but never feels risky or dangerous. It struggles to find a theatrical language for the violence.
An effective comparison may be Marco Ramirez's The Royale (Bush Theatre, 2015), which portrays the story of black boxer Jack Johnson in a racially segregated America, and in which actors never land a single punch on each other. Yet, through stylised movement, Madani Younis's production conveys the blood, sweat, and tears of the boxing ring. It is theatre at its simplest: with something impossible (punching an actor) made believable by the tools of make belief (lights, movement, breath). I would love to see a version of The Sweet Science of Bruising which explores its theatricality a bit more, or even a telly version to binge on HBO. It just needs to fully fall into one of these forms.
Not exactly a knockout, but The Sweet Science of Bruising packs a punch.
The Sweet Science of Bruising runs through 27 October.
The Play's the Thing UK is committed to covering fringe and progressive theatre in London and beyond. It is run entirely voluntarily and needs regular support to ensure its survival. For more information and to help The Play's the Thing UK provide coverage of the theatre that needs reviews the most, visit its patreon.