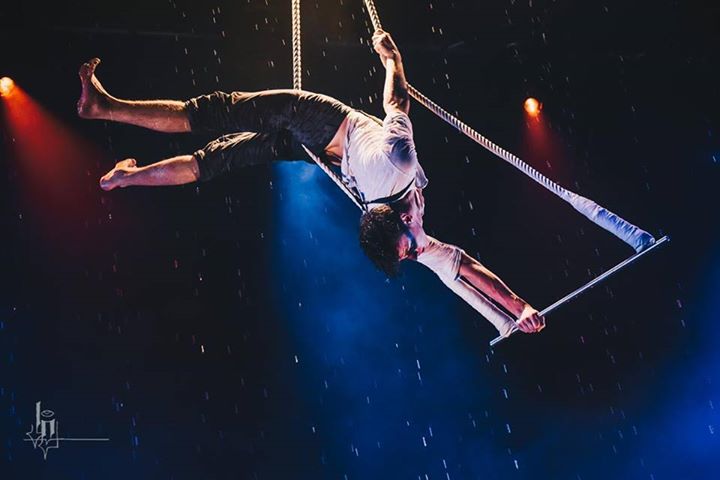 by guest critic Rebecca JS NIce
Two proud directors, Ed Bartlam and Charlie Wood, celebrate ten years of Underbelly at the Southbank on 10 May with an open bar and free mini-burgers that a supremely jolly audience maul the waiting staff to get their hands on. Bartlam makes a speech while Wood suavely leans by his side as he reminds us all how they bought the iconic purple cow from Edinburgh to London, including its strong and diverse circus programme which this year boasts returning favourite Elixir alongside Circolumbia and Circus Abyssinia: Ethiopian Dreams to name a few. Rather wet cast members provide the celebratory performance in a show where sex and some circus tricks provide shits and giggles in the intimate Spiegeltent housing five bathtubs.
Directors Markus Pabst and Maximillian Rambaek showcase eight performers and their individual acts which don't quite hit the mark, either as a cohesive work around the bathtub or as a montage of highly specialised and spectacular sketches. The sexualised humour isn't dirty or dark enough to shock or subvert, but instead sits awkwardly in a dated, cliched, sexist world which, whilst still entertaining to audiences on a light-hearted night out, is outdated amongst the interrogative and critical works of contemporary circus performance. Particularly insulting is a love trio between one male and two female performers, Lena Ries and Vanessa Alvarez. The latter two contort and
fawn over the man in a bathtub, predictably ending by kissing each other instead of him. This moment is yet another reincarnation of the girl-on-girl kiss mistakenly portrayed as empowering. As the audience laughs and hollers, I wonder if I have become a skeptic and I endeavour to enjoy this show for what it is – a fun, drunken night out with awful jokes, great music, some dancing, singing and spectacular balances from acrobatic acts, hand balancing, juggling and aerial ropes and trapeze.
Marie-Andree Lemairée, a clown, provides a charismatic storyline and a humble ability to undermine the overly-serious circus acts. She performs a duet in the bath tub which is well-explored and executed, her body at one end and somebody else's legs at the other. Vanessa Alvarez performs a foot juggling routine with a guitar that seamlessly glides between her legs as they alternate between forward splits. Juggler Adem Endris Yemam almost steals the show with two pieces, but is undermined by undressing mid-act. He returns later in the show to juggle 5, 6 and then 7 balls. He bounces them off the floor, creating a change in dynamic and a heavy beat that provides percussion in total harmony with the beating soundtrack. He plays with the sense of weight and suspension of the balls, dropping, catching and circling at different moments. The balls move low and fast, culminating in the addition of footwork. If Yeman keeps his clothes on and finds a way to work the fails and drops into his act, it will be even more powerful. Daniel Leo Stern performs as little as possible in his aerial act above a bath tub, which is repeated by Mortiz Haase. Stern's act uses two ropes attached to his wrists and Haase uses a trapeze. Dipping in and out of the bath, they contort like figures being fibrillated. Avoiding this temptation would allow their circus skills to flourish.
The balance between circus vocabulary and filler movement undermines each skill. Anton Belyakov uses white blocks like bars of soap and alternates from one to another balanced on his hands. This starts to get interesting but when Belyakov returns with a hand balancing act in a raincoat in the bath, the choreography is yet again watered down by posing and hair flicking. He contorts over the bath holding onto its slippery ceramic roll top whilst hyper-extending a handstand until he is horizontal. He balances like a vertical pin, and opens a perfect side spit tilted to one side somehow twisting the supporting shoulder joint into a contortion that still baffles me. Jennifer Lindshield, a heavily miked soprano, oddly appears between each number to sing 'splish splash' over pop, opera, and classical music. By now anything goes in this communal bathroom mayhem.
The show is let down by its use of the male gaze. Both genders' circus skills are overshadowed by dramatic gestures, cheesy hair flicks and posing covered in water that tries far too hard to be sexy. The assumption that audiences will find this age-old depiction of the female body attractive and entertaining applied to male performers is tired, and simply not good enough when cabaret and queer theatre have paved the way for gender, sexuality and expectations to be subverted, challenged and entertaining. A lack of depth and integrity is forgivable if a show makes up for it in awe, beauty and spectacle.
With a reworking of the dance routines by a choreographer and the sexualised gestures and motifs replaced by explorative circus skills, SOAP will clean up into a subtly subverting show rather than a brash predictable one.
SOAP runs through 17 June.
The Play's the Thing UK is committed to covering fringe and progressive theatre in London and beyond. It is run entirely voluntarily and needs regular support to ensure its survival. For more information and to help The Play's the Thing UK provide coverage of the theatre that needs reviews the most, visit its patreon.