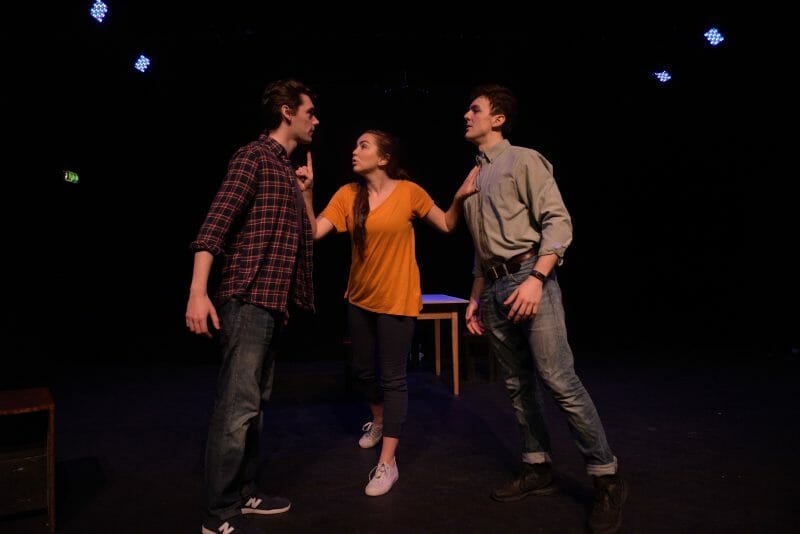 by guest critic Alex Dowding
So what really happens when the fat lady sings? If it's anything like Red Belly Black's accomplished take on on the exquisitely human experience of grief and letting go, expect laughter, tears and harsh truths served with a glittering side of live music.
Walking into the space to the sound of live guitar played by the happiest musician I've ever seen, you think you're in for some fun. OK Bye launches with slickly choreographed physical theatre pieces to establish the relationship of the main ensemble and never drops that energy. With brilliant jokes and home truths about a range of topics, from growing up as siblings with eldest, middle and baby roles, dieting, homing pigeons, hope, homosexuality versus religion, and the burdens of responsibility around a death, this production is a rarity in that it had zero fat on it at all.
Everything contained within is clear and needed to move the story forward or to give insight into the grief that the three siblings and the many interviewees they inhibited through lip-synched voiceover were dealing with. Absolutely nothing is tacked on. Every lighting change, movement section, live musical underscore and every recorded voiceover is necessary and symbiotic to the piece as a whole. It has me flipping from laughing one minute to wanting to call my mum sobbing in the next.
Red Belly Black's first-rate ensemble has delivered a fabulously tight, imaginative and warm look at how we as a family and as humans deal with letting go. Which is fortunate, as when the curtain comes down I really am not ready to say goodbye. This is fringe theatre at its inventive best.
Ok Bye runs through 11 March.
The Play's the Thing UK is committed to covering fringe and progressive theatre in London and beyond. It is run entirely voluntarily and needs regular support to ensure its survival. For more information and to help The Play's the Thing UK provide coverage of the theatre that needs reviews the most, visit its patreon.