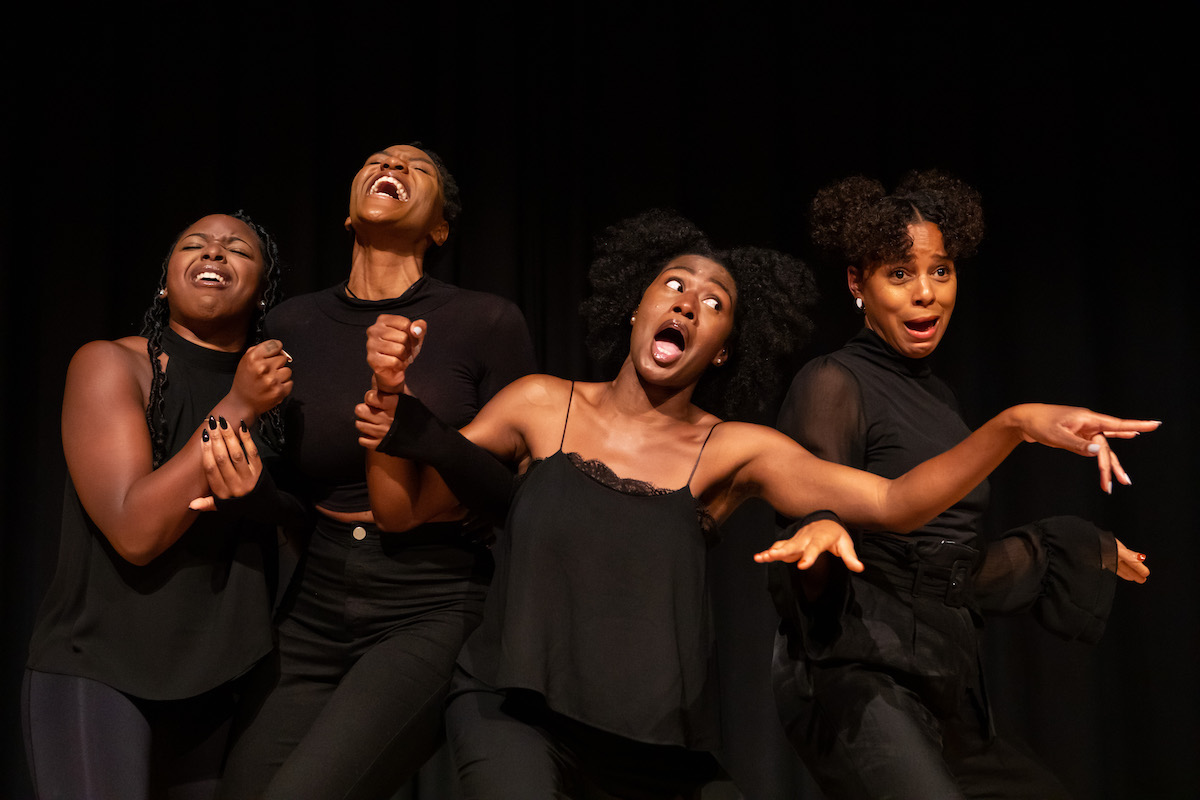 by Romy Foster
This is a triumphant return of Queens of Sheba after a successful run at Soho Theatre in 2021 and Edinburgh Fringe in 2018. Expertly directed, these ladies burst onto the stage with such energy and so many vibes it it's infectious and everyone in the audience feels it.
This unique blend of spoken word, choral work and music really tugs on the heartstrings. We travel through a narrative loosely based on the 2015 DSTRKT club incident where a group of Black women were denied entry for being "too dark" and "too fat". Though it is based on such a sad story and highlights the girls' personal experiences of what it is like to navigate the world as a Black woman, there is no shortage of laughs and warm, fuzzy feelings as this group of best friends comfort each other through hard times with hilarious jokes, impressions of stereotypical London Black boys who hit on women in the clubs, singing and laughing so hard they collapse: a true depiction of Black Girl Joy. It's so exciting to see, as Black women are rarely afforded the right to be goofy yet when they play together that's exactly what it is, and it is gorgeous. I don't remember the last time I sat in a theatre and felt like a collective with the audience, laughing together, "mmhmm-ing" together, crying together.
"Where are you from? But where are you from, from?" is one of the prominent themes of the play, a
question Black people have heard all too often. The Queens reply, "I am a mix. Of both racism and
sexism. They lay equally on my skin passed down unknowingly by my next of kin". The script is
written and performed with such honesty and raw emotion it's impossible to switch off even for a
second. The entire creative team are passionate about accurately depicting the Black experience and
you can really tell.
There is so much truth and trauma baked into this piece. I overheard a white audience member in the bar after say to her friend, "I don't know how they go through that trauma every night for the show". But the truth is that it doesn't just end after the performance is done. The trauma that Black people, especially women, experience is embedded into our skin. They don't step off the stage and it's done and that is another main focal point of the story. We have these experiences – we can't change all of them – but we can choose our sisters and family from people who share those same experiences and create a proud and protective tribe.
This is such a powerful and necessary show that all people keen to understand the roots of misogynoir in the UK need to see.
Queens Of Sheba runs through 26 February.
The Play's the Thing UK is committed to covering fringe and progressive theatre in London and beyond. It is run entirely voluntarily and needs regular support to ensure its survival. For more information and to help The Play's the Thing UK provide coverage of the theatre that needs reviews the most, visit its patreon.