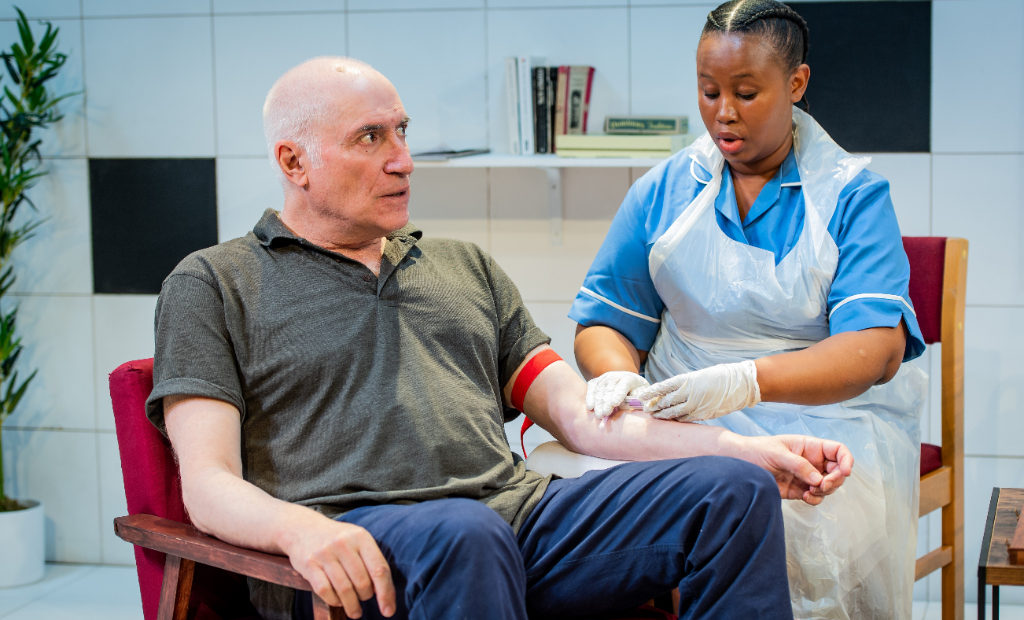 by Laura Kressly
Jacob Zuma, the retired president of South Africa, is in hospital for some tests. On checking into his room he discovers his nemesis, former Minister of Intelligence Ronnie Kasrils, in the room opposite. The two men have a long and complex history that unfolds over the course of Gail Louw's play as a dialogue-driven wrestling match. Though their relationship has plenty of material to fuel discussions and augments about revolution, women, race and South Africa's history, the plot meanders through topics rather than telling a cohesive story. Strong performances make this an engaging production minute-by-minute, but the overall result is not satisfying.
Andrew Francis and Jack Klaff are Zuma and Kasrils, respectively. Both are full of the confident, uncompromising bluster of politicians, and they spark off of each other with  affection and warning. At times they banter about women and their youth, at others they fling threats and insults. But instead of a dramatic plot, this is an extended conversation rehashing their pasts. It's all rather existential, particularly in the white sterility of a hospital lounge.
We also meet their nurse, a patient and firm young women who was born after the end of apartheid. She is played by Bu Kunene, who also takes on other characters in the men's memories – though the transitions in and out of these flashbacks are sometimes clumsy. Kunene displays great versatility and keeps the egos of the other characters firmly in check. As the men debate the nuances of a particular incident that could have been Zuma's downfall, and whether or not they could ever return to power, the young nurse reminds them that they live in a new era, and she is the one in charge.
This is an informative glimpse into South African politics and racial issues, but it's not clear what message the audience is meant to take away. The actors are dynamic and convincing, but the entire premise of the men's encounter fights against the construction of a story with a clear narrative journey and high stakes.
The Ice Cream Boys runs through 2 November in London.
The Play's the Thing UK is committed to covering fringe and progressive theatre in London and beyond. It is run entirely voluntarily and needs regular support to ensure its survival. For more information and to help The Play's the Thing UK provide coverage of the theatre that needs reviews the most, visit its patreon.