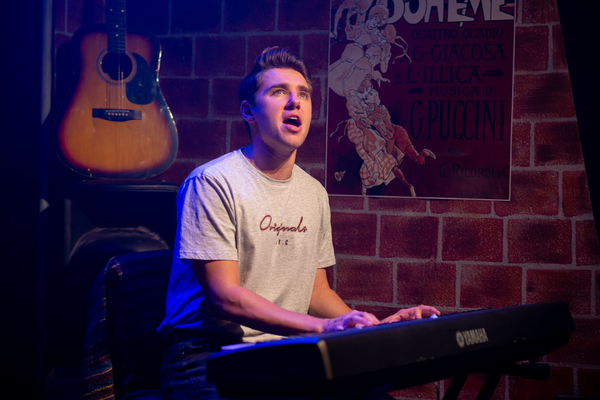 by Amy Toledano
Before Jonathan Larson's iconic musical RENT took the world by storm, there was the autobiographical show, Tick, Tick…Boom!. Originally performed by Larson as an solo show before his tragic death in 1996, the piece was later revamped into a three-hander by David Autumn.
Holding the same values that RENT encapsulates, Tick, Tick…Boom! is the grittier, messier more stripped back version of what it means to be a struggling artist living in New York. In this new version presented by The Bridge House Theatre, Director Guy Retallack stays true the show's original nature and intimacy, and delivers an excellent, moving piece of theatre.
Alex Lodge leads the show as the anxiety-riddled, struggling composer Jon. Accompanied by Georgie Ashford as his dancer girlfriend Susan (amongst other small ensemble roles) and James Hume as his best friend and corporate 'sell-out' Michael, this trio create the stifling and addictive realities of New York City life with great delicacy and fizz. The cast are all brilliant, with excellent chemistry and outrageously good vocals. Special mention goes to Ashford for her belter of a number "Come To Your Senses", as well as Lodge's beautiful rendition of "Why" as he reminisces about the some of the best times he has had with friend Michael.
Only days away from his thirtieth birthday, Jon struggles to come to terms with his lack of success, his need to have achieved more and his desperation to make what he has created a hit. With a workshop of his latest show Superbia looming, Jon loses sight of what else is around him and is completely stunned once he comes up for air and realises things are falling apart without him even noticing.
Larson is the master of the rock musical, and was one of the first artists to write a Broadway show that included grungy, rock-fueled anthems. In Tick, Tick…Boom! we get a taste of this style's orgins, and a look into the life of one of the most influential composers of our time.
The show, while heartbreaking, is also a bitter-sweet ode to the artists who are going against the norm and throwing themselves into their work, and the sacrifices they often make. Ending with Larson's classic "No Day By Today" mantra, Tick, Tick…Boom! is a lovely show brought to life with excellent vision from a creative team who have understood the subject matter perfectly.
Tick, Tick…Boom! runs through 5 October in London.
The Play's the Thing UK is committed to covering fringe and progressive theatre in London and beyond. It is run entirely voluntarily and needs regular support to ensure its survival. For more information and to help The Play's the Thing UK provide coverage of the theatre that needs reviews the most, visit its patreon.