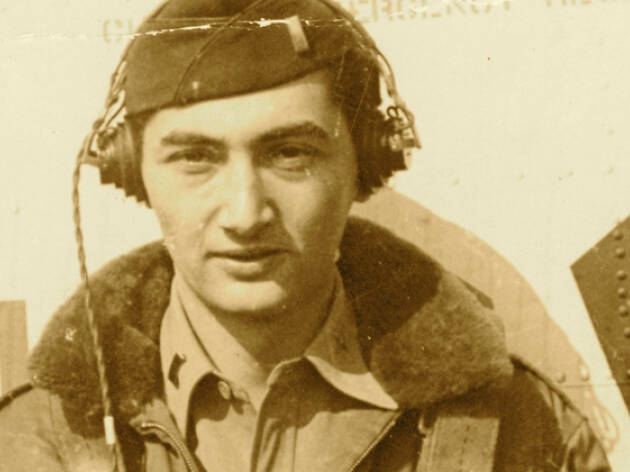 by Laura Kressly
When Howard Zinn was a bombardier in WWII, his plane was too high up to see the damage caused by the bombs he dropped. As a young academic after the war, he visited some of these places, rebuilt but with civilian trauma still fresh in survivors' minds. These experiences cemented a life-long opposition to war and social injustice, manifested in activism, writing and scholarship. He believed that learning about history was the best way to avoid repeating it, and that listening to the stories from anyone other than the victors is crucial to that learning process.
As the world feels like it teeters on the edge of a war what with the rise of fascism and the far right, this collage of extracts from Zinn's writings (recently labelled as false and dangerous by some on the political right), music, and original text reminds us of the importance of activism and avoiding war at all costs. Playwright Bianca Bagatourian could easily make this a homage to Zinn's achievements, but she doesn't. Whilst his experiences – from wartime through to old age – shape the dramaturgy and his politics, Zinn fades into the background, giving space to the people who are a focus of his work. With a multinational ensemble depicting victims and perpetrators throughout the world's recent history, the stark reality of injustice and violence that unfolds in the form of small scenes and monologues doesn't ask politely. It demands empathy and action for all people, and an understanding that governments have no regard for the lives of its citizens or those it takes up arms against.
Howard Zinn is played by rotating guest actors, with Martina Laird taking the stage for this performance. She has a confident but calm presence underpinned by Zinn's convictions and life experience. It is particularly moving to see a woman of colour play the role of not just any white man, but one of the most highly regarded American historians. She is supported by a multi-rolling ensemble depicting soldiers, civilians, protesters and activists.
Che Walker directs, using sharp lighting changes and deep colours to indicate a change in character and location. There is no set, which emphasises the universality of human experience. Though there's an unwavering political bent running through the piece, tere's not much of an over-arching narrative – but there isn't with world history. It's a montage of human experience with entirely too much suffering at the hands of the powerful.
The Time of Our Lies runs through 10 August.
The Play's the Thing UK is committed to covering fringe and progressive theatre in London and beyond. It is run entirely voluntarily and needs regular support to ensure its survival. For more information and to help The Play's the Thing UK provide coverage of the theatre that needs reviews the most, visit its patreon.