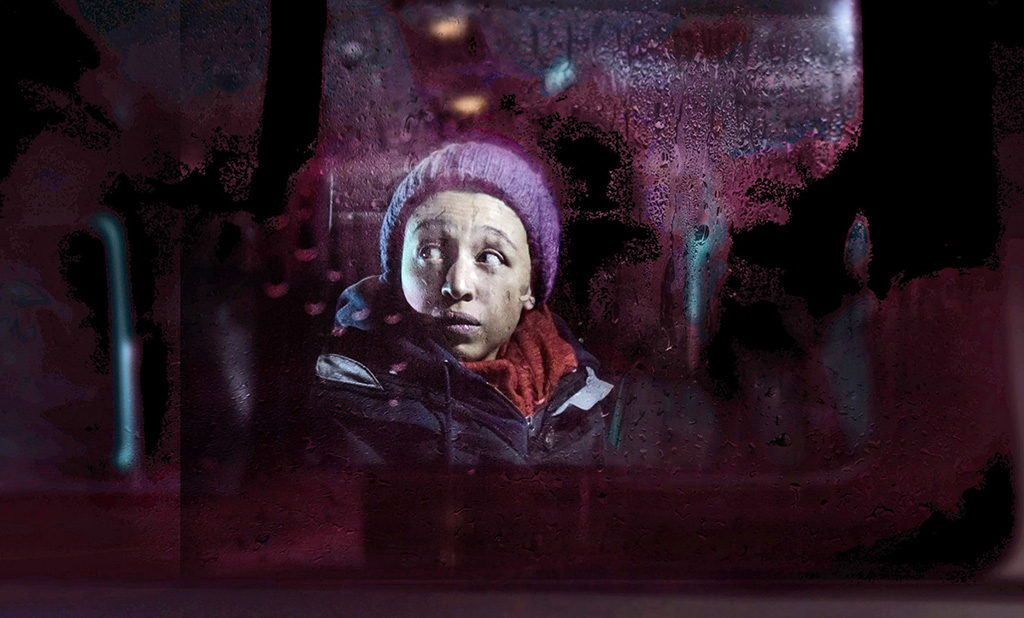 by Laura Kressly
At the start of what seems to be a fairytale, we meet Nour and Yumna in their tiny house. They have just enough space for the two of them and all the things they need. Though Yumna's ears don't work, she's teaching her language to the little girl she's raising on behalf of her best friend whose gone to make a new life in a faraway land. They are happy, want for nothing, and their days are full of light, love and stories. But the bombs are getting closer, the men with guns are ever more threatening, and Nour's mother could send for her at any point.
Estelle Savasta's story of motherhood, unconditional love and the refugees' perilous journey is elevated and mythologised, brought dreamily to life in a highly visual and engaging production with BSL and excellent projections. The effect is one of pure, timeless beauty – yet it is also highly sanitised. Nour narrates her journey that she has little understanding of and her simple language captures her own confusion, but conveys  precious little of the suffering and risks that refugees experience. Nour is calm and collected as she tells her story of border crossings, traffickers and Home Office applications, which further distances the audience from the trauma of leaving the only home she has ever known.
Charmaine Wombwell is a compelling Nour, though. She is convincing as a small child, and grows up with almost imperceptible change. Her childlike confusion gives way to a weighty sadness. Nadia Nadarajah is a warm and maternal Youmna – I only wish she was more present after the beginning of this staging. The pair have a wonderfully intimate chemistry that makes the heart ache with affection, and their dynamic is the by far the best aspect of the show.
Director Omar Elerian's last production in his tenure at the theatre is one of both subtlety and sweeping narrative, though at times the narrative style is distant and cold. The infinitesimal and the epic are reflected in these two people, even if their suffering is glossed over and romanticised. Instead, it framed as something to be tolerated, and even noble.
Going Through runs though 27 April.
The Play's the Thing UK is committed to covering fringe and progressive theatre in London and beyond. It is run entirely voluntarily and needs regular support to ensure its survival. For more information and to help The Play's the Thing UK provide coverage of the theatre that needs reviews the most, visit its patreon.