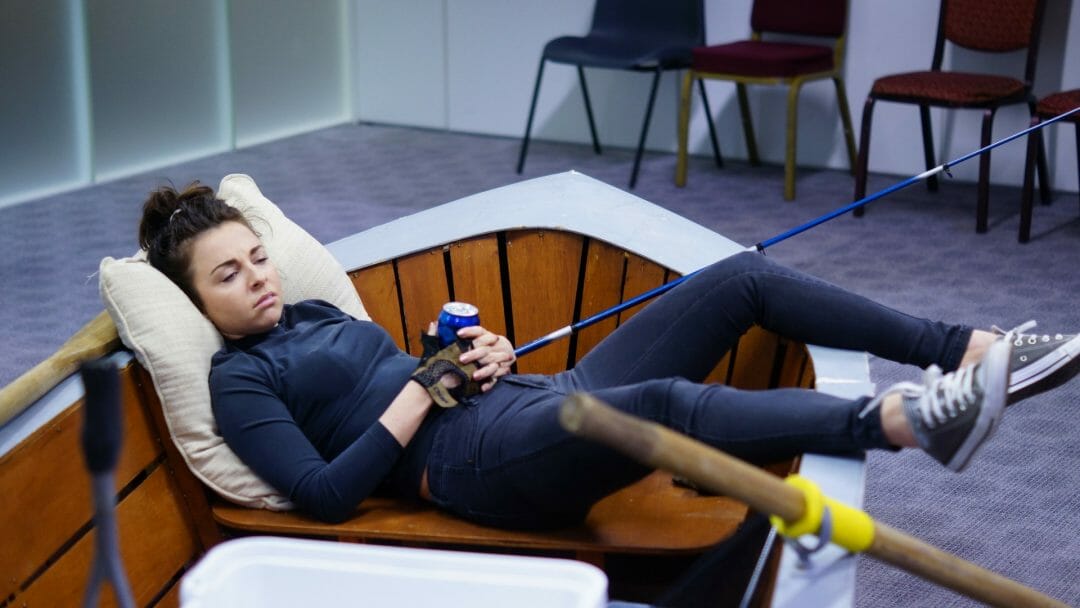 by guest critic Meredith Jones Russell
All is not as tranquil as it seems on a quiet shallow of the Gulf of Mexico – Kendra and Betty sit on a boat one afternoon ostensibly to fish, but in reality to thrash out their relationship. As night sets in, they begin to wonder whether they can ever escape where they have ended up.
Playwright Audrey Cefaly is a noted proponent of silence, and The Gulf is no exception to this. Sometimes it is used to great effect; occasionally it causes the pace to drag slightly. It also fairly quickly becomes apparent that neither character is enormously likeable, which despite the laughs can lead the constant bickering to become grating as the evening wears on.
But the two actors are fantastic. Louisa Lytton is withering as the cold, abrasive Kendra, barking "mental terroristics" at Anna Acton's emotional and sensitive Betty, who claims she just needs someone to "reach" for her. Acton particularly impresses, giving Betty just enough depth to avoid caricature, while both actors manage to maintain pretty convincing southern American accents throughout.
Mitchell Reeve's lighting and Will Thompson's sound design work beautifully together to make us part of the increasingly claustrophobic, inescapable evening the central pair are experiencing. The set, also by Reeve, along with director Matthew Gould, is gorgeous.
While the play is set in a very specific location, time and with very distinct, well drawn central characters, at its core it is a universal story. The Gulf deals with moments, emotions and challenges that any person in any type of relationship might face. This is both its strength and its weakness – while there are a lot of things to recognise, not much is really said. At the end of 100 minutes of arguing we are left, like the characters, not much further forwards or even back, but somewhat adrift.
But this lack of social commentary serves mainly to enhance the play's simultaneously entirely universal but completely personal quality, which ultimately makes The Gulf a touching and enjoyable watch.

The Gulf runs through 5 May.
The Play's the Thing UK is committed to covering fringe and progressive theatre in London and beyond. It is run entirely voluntarily and needs regular support to ensure its survival. For more information and to help The Play's the Thing UK provide coverage of the theatre that needs reviews the most, visit its patreon.