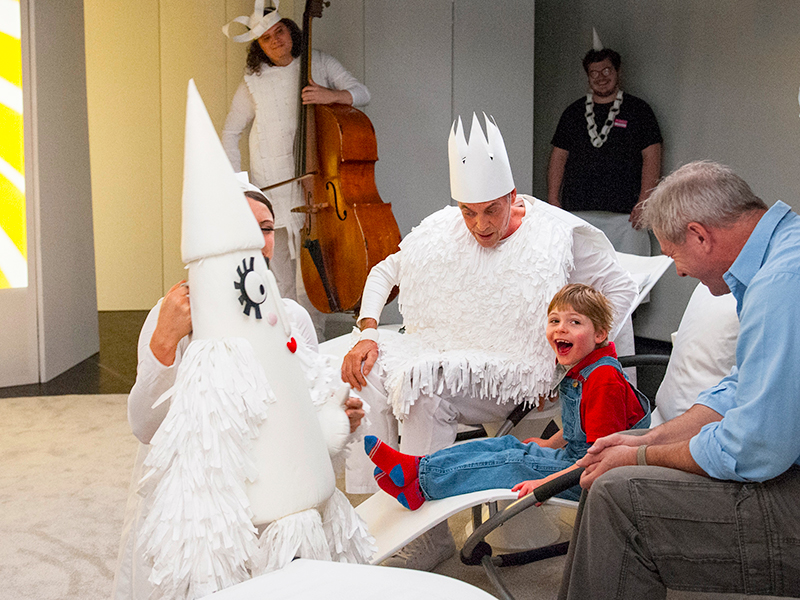 by guest critic Steven Strauss
Oily Cart has been producing immersive theatre since long before the current craze became so popular the world over. 
This company specializes in creating pieces for the very young and kids on the autism spectrum. And thanks to Lincoln Center's hopefully-inaugural Big Umbrella Festival — the first of its kind revolved entirely around such audiences — this New Yorker was finally provided an opportunity to experience their work in person. 
And it is an EXPERIENCE in every sense of the word, a profoundly moving one that also illuminates not only how bafflingly inaccessible so much theatre can be, but that there are easy ways to rectify this egregious problem.
Light Show begins before anyone steps foot into the main playing space. In the lobby, kids and their carers receive a rundown of what's to come as a way to avoid any shocks that might unnecessarily upset the kids. In addition, the various materials used in the show are scattered across the room, providing the children with time to acquaint themselves with the tools they're about to see come to life.
This immersive engagement becomes even more immediate once the show actually begins. Instead of a conventional stage, the kids sit in Claire de Loon's wonderfully inviting set design: a semi-circle of funky chaise lounges surrounded by beach umbrellas and a shadow-puppet projection screen (there's an all-white aesthetic that's fortunately not reflected in the casting). The three-member ensemble (Griff Fender, Mark Foster, and Katherine Gray) perform in front of, around, and amongst the kids, who are free to roam and respond at will. The cast seamlessly improvises their behaviour into the proceedings. There's a wonderful purity in liberating audiences from responding to art in ways untainted by stuffy and unwelcoming societal norms.
Instead of forcing a narrative, the primary storytelling engine is centered around the opening of a series of boxes, out of which come a variety of sensory objects for the kids to interact with. These tactile treasure chests symbolically double for theatres, in which reside the usual supplies to create theatrical magic. These physical concoctions are not kept at an alienating distance from the viewer; instead, they became a part of the persistently-inclusive alchemy.
A key component of this distinct connection between the performance and the kids is the exclusionary positioning of the "observers," Oily Cart's name for adults, who are not allowed to participate. From the lobby to the central playing area, we're placed on the outside of the action, a brilliant way to alienate us in the same way a vast majority of performance makes no room for kids with autism. Rather than feeling slighted — which would be the height of ignorant narcissism — this thoughtfully meaningful recontextualizing further cements the notion that this Light Show is not meant for us over-indulged audiences; it's for the marginalized masses in front of us.
And yet, by no means are its joys reserved solely for them. Their happiness radiates far past their inner circle, enveloping the entire room.
The final object removed from the production's boxes reaffirms this concept. After these kids feel a part of something artistically bigger, they're presented with a simple mirror. One by one, the actors walk up to each, singing their names and letting them look at themselves. For once, all they see within this artistic frame is themselves, a reminder that this whole evening has, at long last, been both for and about them. In this moment, I realize anew how much we define our identities by our interests. What we like is who we are.
Everyone in New York City should try to visit the Big Umbrella Festival before it shutters. Changing the very nature of theatre to Oily Cart's extreme can only expand those who share our adoration for theatre. We can start by urging wealthy arts organizations to follow Lincoln Center's lead and underwrite similar ventures around the world, with what would be pocket change for them. Nothing is better than witnessing our beloved theatre inducing such joy in people too often ignored in the arts.   
Light Show runs through 22 April.
The Play's the Thing UK is committed to covering fringe and progressive theatre in London and beyond. It is run entirely voluntarily and needs regular support to ensure its survival. For more information and to help The Play's the Thing UK provide coverage of the theatre that needs reviews the most, visit its patreon.