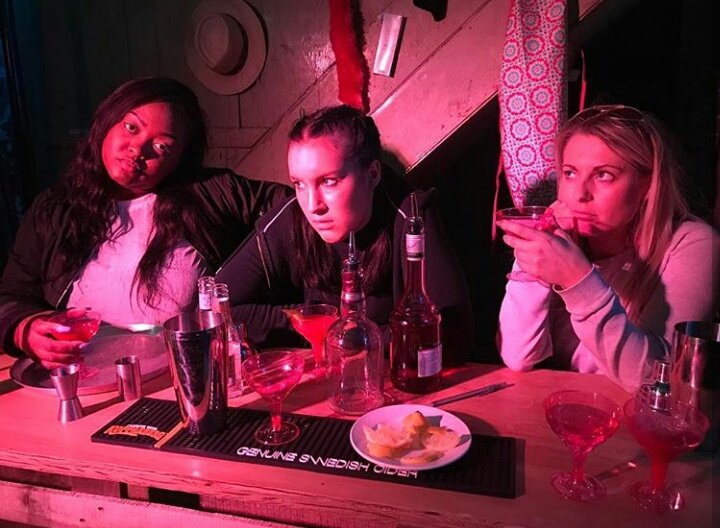 by guest critic Rebecca JS Nice
After working on Tristan Sharps' Absent at The Shoreditch Town Hall in 2015, I have been given an education in the building's rich maze of ballrooms and basements, shiny bars and crusty corridors, peeling paint and underground nooks and crannies that both delight and disorientate in equal measure. Dream Think Speak Company did just that, honouring the architecture of the building in a site specific work that set a precedent for work to come. As the evening of May 4th unfolds it seems that Cass Arts are unaware of their sophisticated forbears when they claim to produce "site-specific performances and installations on the themes of secrecy and disguise" in Den. As contemporary immersive theatre expands from the spectacle of Punch Drunk to the intimacy of Sheila Ghelani, Cass Arts have widely missed the context in which they have placed themselves.
My first mistake is to be lured by the location and reputation of the Shoreditch Town Hall, my second mistake is to trust that even though the dreaded word "student" was dropped into the press information, that the direction, location, and spectacle of immersive theatre would make up for any lack of experience in the cast.
The curation by Jacek Ludwig Scarso seemed solely to take every student's unedited writing and plonk them in their own room. The show was twice the length it needed to be, and the audience was given no choice as to their route – we are forced to spend about 20 minutes in every room. Flashbacks from my time as a teacher return as I watch what feels like an endless stream of GCSE-level games of dress up.
The work opens with an introduction from the blue fairy, who sets a scene that conjures up a dark Disney fairyland that unfortunately we don't get to visit. Moving instead into a dingy bar with a Russian cabaret scene; the notion of the grotesque, dance and cabaret is alluded to but not quite embodied at this stage. Journeying through fabric covered corridors with birdsong to candle lit tunnels, the trip is wonderful if the destinations underwhelming.
There are two beautiful moments in this work of endless impressions and unoriginal jokes. They are peepholes into rooms dressed subtly with a lone figure at a typewriter, or brandishing a carving knife over some juicy red apples possibly in reference to Jean Genet's The Maids. Ushering twenty people into a cramped space to look through these holes one at a time needs revising, however.
There are lessons to be learnt in audience navigation and curation which struggle to make a cohesive piece out of far too many and too long student projects that bear little relation to each other or the evocative spaces that they inhabit. Despite the frustrating content, I thoroughly enjoy a trip down into the depths of the town hall's warren of dilapidated rooms and marvel at the witness marks, old fireplaces and windows until my group of audience members finds themselves stranded in a courtyard at a loss to find our way back to the exit. After contemplating escaping up a spiral staircase or risking walking into another scene, we try a door that leads us to a rather surprised blue fairy who manages to stay in character and usher us through to the foyer. The evening is long and tiring, and this output from London Met just doesn't hold up to the well-known theatre conservatoires and universities, and falls short of current site-specific, and immersive practice.
Den runs through 6 May.
The Play's the Thing UK is committed to covering fringe and progressive theatre in London and beyond. It is run entirely voluntarily and needs regular support to ensure its survival. For more information and to help The Play's the Thing UK provide coverage of the theatre that needs reviews the most, visit its patreon.