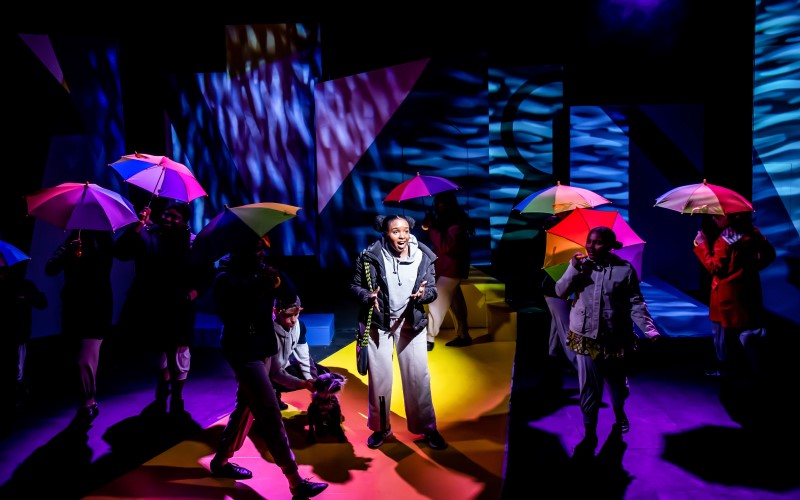 by Romy Foster
It's opening night at Theatre Peckham and I am one of the first to see The Wonderful performed in front of a real, live audience (they only had their dress rehearsal THAT DAY). I followed the yellow brick road through the foyer to my seats and eagerly awaited this Peckham-ised twist on the lovable children's classic, The Wizard of Oz.
This show is packed with original musical numbers, and the dance moves are theatrical and exciting. It's clear a lot of effort went into creating this piece. Despite it being an adaptation, the story is not too dissimilar to the original but has sprinkles of modernity throughout such as the character names TikTok the dog, Cyri (pronounced siri), and the use of advanced technology/afrofuturism in the magical world of Ozanda. The story is easy to follow so great for little ones, and the singing and dancing from the Young Company (made up of members in the local community) are sure to keep them engaged. The whole company is passionate, lively and eager to please in their performances.
The five main cast members playing Efe, Manny, Mane Man, Cyri and TikTok the Dog are fantastic. Their playfulness between each other and the audience is great, but the real star of the show is Alexander Joseph who plays Senobi, the villains sidekick. Though he be small, his presence is mighty. His enthusiasm, great voice, exaggerated reactions and facial expressions really bring the story to life. The audience adore him.
The Wonderful is a healthy mix of a proper musical and a Christmas panto, balancing audience interaction and musical themes very well. The icing on the cake is the moral of the story – everything you think you really need is already inside of you, all you need to do is believe in yourself. It's an excellent message to promote to young children and teenagers coming to see the show. It is a beautiful, cultural mix of magic and manifestation. I can't wait to see how this show develops over the coming weeks as it is packed with promise and potential. There really is no place like Peckham.
The Wonderful runs through 22 December.
The Play's the Thing UK is committed to covering fringe and progressive theatre in London and beyond. It is run entirely voluntarily and needs regular support to ensure its survival. For more information and to help The Play's the Thing UK provide coverage of the theatre that needs reviews the most, visit its patreon.