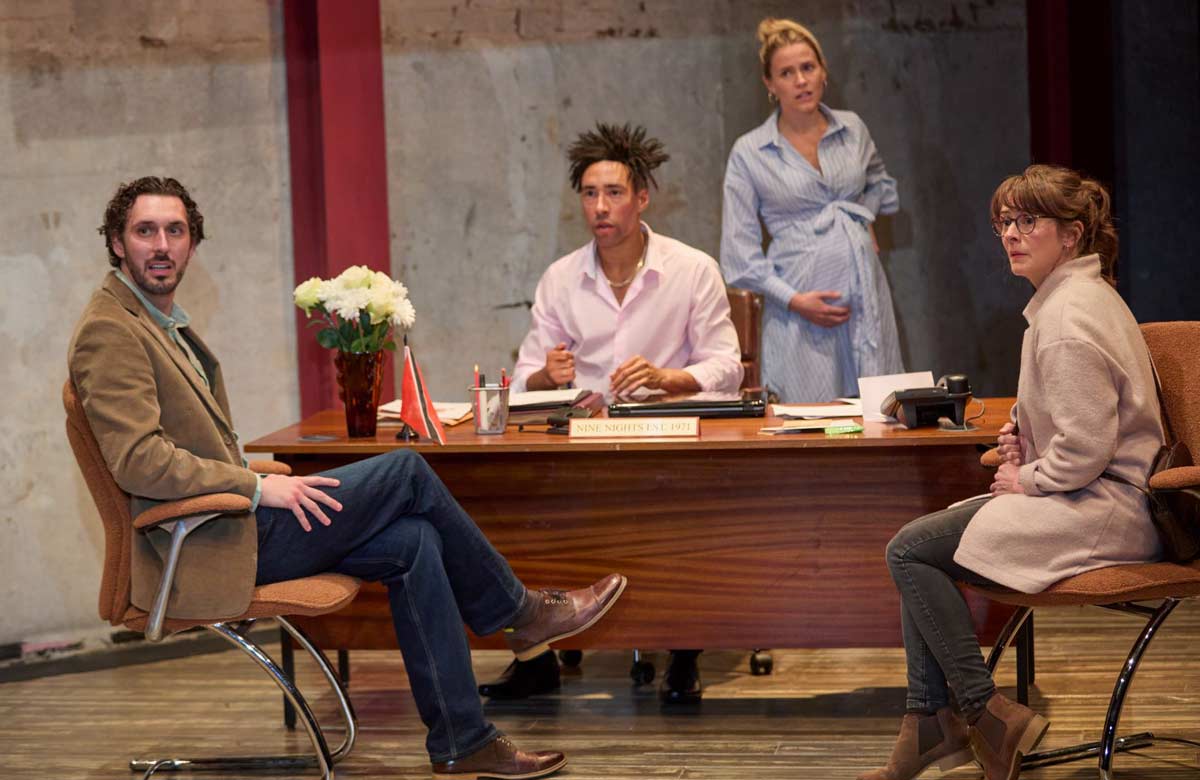 by Romy Foster
Let 'spirit tek yuh' through a cycle of life and death in this time-warp through Brixton from the 1970's to present day.
Through the decades, three families try to navigate their way through an ever-changing environment. With gentrification and protests on the rise, trying to maintain dying family businesses proves difficult when they are all resistant to change.
Keeping tradition alive is important to Trinidadian funeral director Clarence (David Webber), and passing it onto his hesitant son, Keron (Laurence Ubong-Williams) and expectant partner Tash (Kirsty Oswald) is a big deal. Intent on keeping the family business alive for the sake of his new arrival, Keron is keen to expand the services Nine Nights Funeral Directors offer in order to draw in new clients. Stuck in his ways, Clarence rejects Keron's ideas, stating the importance of knowing where you come from and making space for 'we', as those that came before us have paved the way for them. Grieving and low on funds, Webber and Ubong-Williams display a fiery bust up drawing out feelings of shame, identity and generational trauma with such passion and heartbreak. It's hard not to feel the tension in the auditorium as the audience hold their breath.
A difficult watch at times during turbulent, racially charged scenes, Harold Eddo as young Clarence, Oswald as Tash, and Joanna Horton as Violet provide some much-needed comedic relief. Eddo's childlike nature and hilarious facial expressions are so playful you might just miss them if you're not careful. Oswald's cheeky proper Londoner, take-the-piss-out-of-everything vibe is hard not to crack up at, and Horton's nervous energy as Violet Wilcox lets us laugh at sheer ridiculousness of the situation she and her husband find themselves in.
The stark differences between the families are hard to miss, but it is the similarities that thread this story together. Whilst Clarence and his family provide end-of-life Caribbean customs for the last of the Windrush Generation, George and Anna O'Driscoll (Blake Harrison and Joanna Horton) provide their own customs which aren't dissimilar – keeping a candle burning for a lost loved one, pictures of memories hanging on walls, serving the local communities by injecting their cultures into their work. They may look different, but they have an awful lot in common. Writer Archie Maddocks and Director Michael Buffong have really hit the nail on the head here. This play is a wonderful insight into how culturally diverse London is, that we are all one in the same and when the time comes, everyone must keep it moving.
A Place for We runs through 6 November.
The Play's the Thing UK is committed to covering fringe and progressive theatre in London and beyond. It is run entirely voluntarily and needs regular support to ensure its survival. For more information and to help The Play's the Thing UK provide coverage of the theatre that needs reviews the most, visit its patreon.