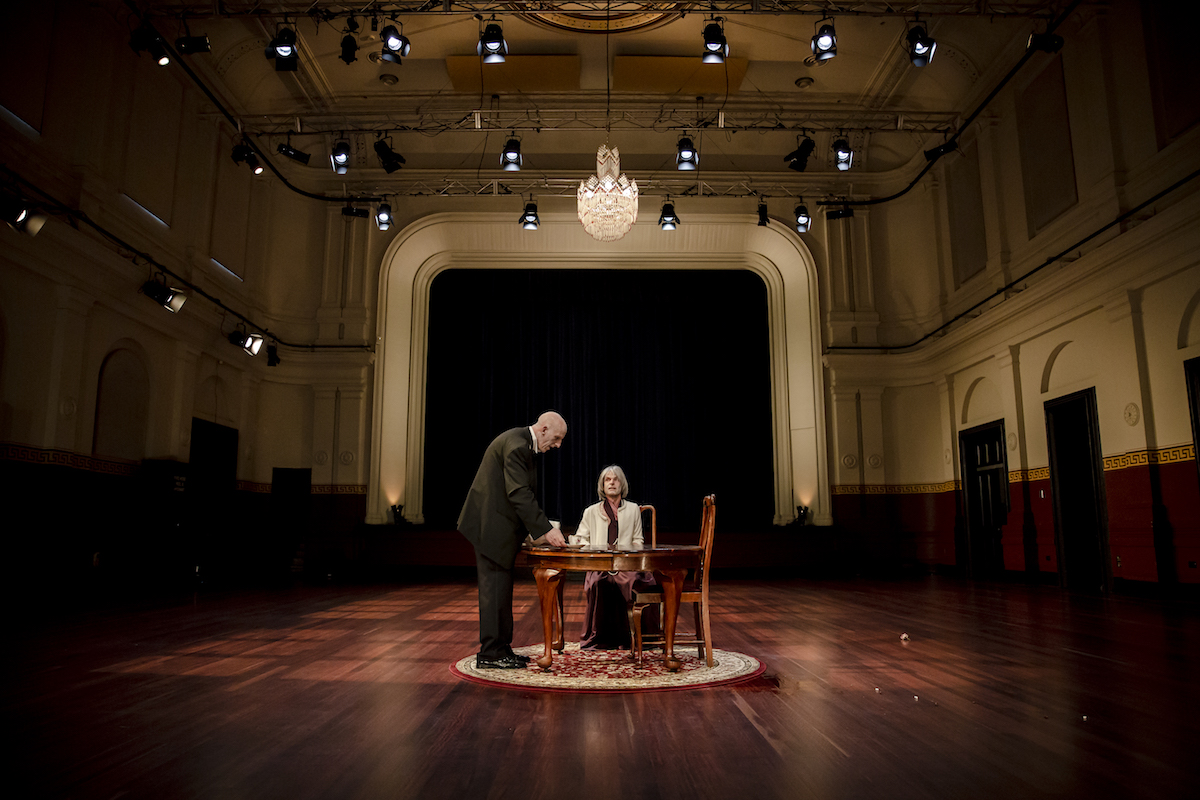 by Laura Kressly
Time. Generally, I never seem to have enough of it. Occasionally – rarely – I have too much to wade through before reaching something I'm eagerly anticipating – a holiday, the weekend, time with a friend I haven't seen in awhile, or a desperately needed lie-in. Yet for Norman and Vivian, the elderly couple in Ridiculusmus' new show about ageing, time is a languid, sluggish force. Every weighty moment is stretched to its limits, threatens to stall, and is marked by discomfort, weakness and struggle.
It's not entirely tragic, however. Ridiculusmus' trademark absurdity occasionally appears in this Beckettian time-warp, nicely breaking up the monotony of life restricted by a decrepit, powdery body. Running for only an hour, most of what unfolds is tiny, anticlimactic and slowed to the point that time nearly stops – Vivian and Norman's arm-linked entrance reminds me of Tadashi Suzuki's slow-motion walk exercise, fraught with the pain and fatigue of old age. I can hear the performers' muscles screaming over the soundtrack of a ticking clock.
Anticipation generated through the staging and existential narrative – that's as delicate as the characters' bodies – holds significantly more interest than the staging and existential narrative themselves. The two boys of about 11 or 12 sitting next to me whisper back and forth predicting the collapse of one or both characters; we are conditioned by linear, dramaturgical structures that build towards a climax, and the longer it takes, the more tension the audience feels. In this case, the payoff is unexpected, occasionally bizarre, and irrefutably theatrical as the initial premise and time itself is deconstructed. There are also fart jokes.
Though within the artfulness of David Woods and Jon Haynes' portrayal, there are moments where their tribute to their elders comes across as distasteful and mocking. They clearly want to treat ageing with playfulness, but some of the gags are uncomfortable, or bordering on offensive. The vulnerability of the elderly and disabled can easily tip into caricature when taken on by younger, non-disabled actors exaggerating behaviour and mannerisms, even if for the purpose of examining them.
The physical and vocal skill on show is impressive in its accuracy, control and specificity that recreates convincingly ancient people, and the sparse narrative is a meditation on the fragility of the human body and the memories it holds. It's easy to see what the artists are trying to do though, and the story isn't enough to hide it. The snail pace challenges contemporary attention spans and the desire for big, dramatic events, but in any boredom that arises, there is room for contemplation – but the latter must be fought for, and it's easy to see how audiences could find the show as much of a struggle as the characters do.
Die! Die! Die! Old People Die! runs through 25 May.
The Play's the Thing UK is committed to covering fringe and progressive theatre in London and beyond. It is run entirely voluntarily and needs regular support to ensure its survival. For more information and to help The Play's the Thing UK provide coverage of the theatre that needs reviews the most, visit its patreon.