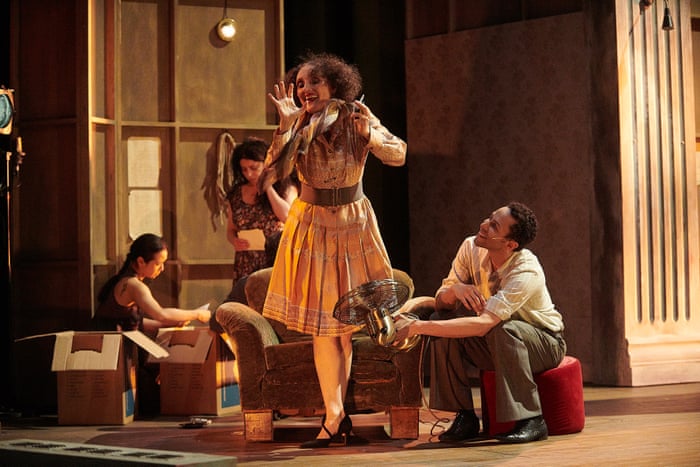 by Laura Kressly
I'm going to go out on a limb and state than any performance lasting three and a half hours should be good. At a minimum – if it has a name like Pina Bausch's attached it should be much better than good. It should be complex, groundbreaking and innovative.
This show, a montage of tiny moments showing characters either grieving someone's death or dying, and interspersed with much less dance than expected from a modern dance company, is just beige. The design is literally beige, and after 20 minutes of various people in their final moments or processing someone else's final moments, the content becomes beige, too. This much repetition without any depth or significant variation strangles our ability to empathise, resulting in:
"Another sad person because someone close to them died? Like the 10 we've just watched? Oh."
The singular theme is generally manifested in the most obvious, straightforward narratives, miniaturised to the point that the only difference is the individual characters. Some scene-lets are accompanied by a dancer, who is not integrated into the action whatsoever. Though this adds a more visual dynamic, the added bonus of some artful choreography is tacked on without thought. We essentially watch the same scene, over and over again with the slightest of variation. It's a worse version of the mediocre-at-best Groundhog Day (let's go with the film for this anology, because cinema allows for even shorter scenes and quicker transitions that theatre), but with less dramaturgical clarity and plot.
Most encounters are sparsely realistic and flatly delivered, though some have absurd elements. There's the sexy dancing horse in one scene, and a funeral director who ashes his cigarette into an urn. There's also a woman with a boat hat that has a smoking cigarette for a smokestack, and a couple shouting "I'm tired, I can't anymore" at each other over and over again like a beginner's Meisner exercise. None of these effectively contribute to the theme, but they are a welcome diversion from the tedium and occasionally elicit a sparsely populated constellation of chuckles. There's an excessive and unnecessary use of fans.
Some of the characters reappear a few times so there is something resembling plot progression at times, but the extracts from these characters' lives that should be pivotal and devastating – like dreaming your brother died then finding out the next morning that he actually did – are only marginally more emotive than a dead fish.
After the interval, the audience was noticeably reduced in size but those that cut their losses didn't miss out on any distinct deviation from the first half. A couple of whole-company sequences are nice and the final moment has some pretty, winter scenography but there really is no need for this piece to be longer than 30 minutes. An additional three hours is just offensive.
Bon Voyage, Bob runs through 25 February.
The Play's the Thing UK is committed to covering fringe and progressive theatre in London and beyond. It is run entirely voluntarily and needs regular support to ensure its survival. For more information and to help The Play's the Thing UK provide coverage of the theatre that needs reviews the most, visit its patreon.