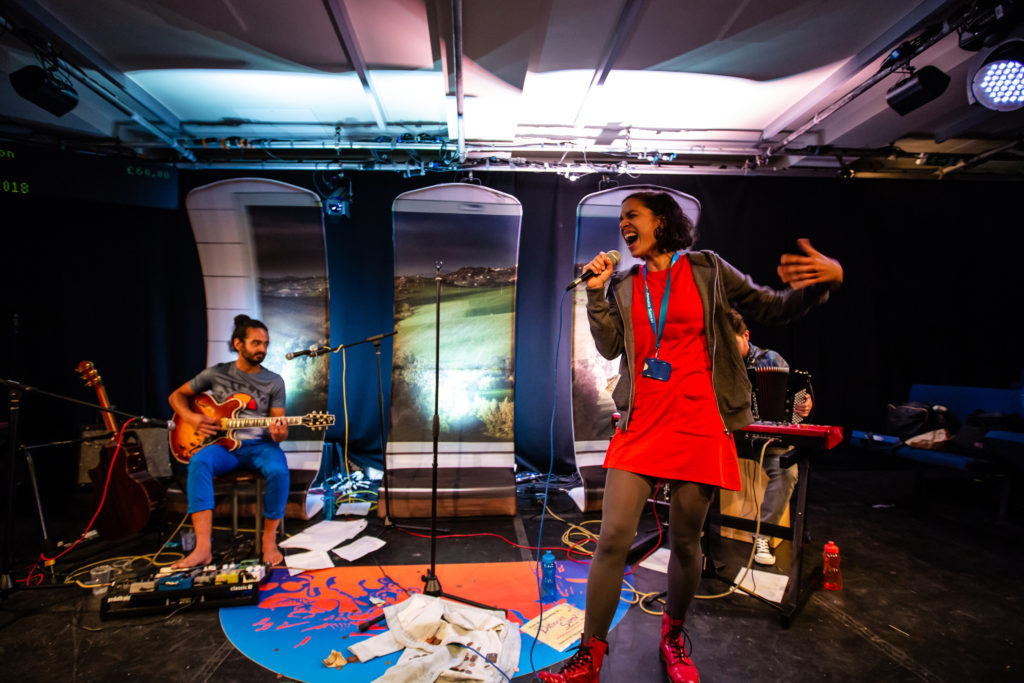 by Maeve Campbell
The basement space in Shoreditch Town Hall is the perfect fit for Danusia Samal's one-woman show about the ten years she spent busking on London underground platforms.
Before the show officially begins, Samal serenades us with her flawlessly smooth Otis
Reading, Stevie Wonder and Nina Simone covers. She's accompanied by musicians Joe
Archer and Adam Cross, along with recorded sounds of tube platform announcements,
commuting passengers and passing trains. Samal is relaxed and informal as the audience
enters, kindly lulling us into the world of her show.
Samal's an easy, expert performer, with a beautiful singing voice. There are some really
charming moments, such as the awkward teenage Danusia's audition on an abandoned
underground platform, or when she serenades the commuting object of her affection. The ending is properly moving, building on a personal narrative through-line that demonstrates a subtle political message behind the work.
However, the show is too long, exacerbated by a repetitive line enquiry that doesn't always fit deftly into the personal narrative structure. As is common practice for solo work, Samal plays with different accents to introduce new character interactions, but some of those employed more frequently prove grating after a while. Furthermore, the build up to a musical moment, set up as a poignant climax, is not quite realised. This isn't down to Samal's emotionally layered performance, by rather the narrative structural flaws that can't support it.
The show is sincerely warm, peppered with genuinely uplifting moments. However, the tone of the work often straddles sentimentality. Samal's singing carries the show; there could have been more of it, and the pleasure of listening to her makes up for any of the show's failings.
Busking It runs through 20 October.
The Play's the Thing UK is committed to covering fringe and progressive theatre in London and beyond. It is run entirely voluntarily and needs regular support to ensure its survival. For more information and to help The Play's the Thing UK provide coverage of the theatre that needs reviews the most, visit its patreon.