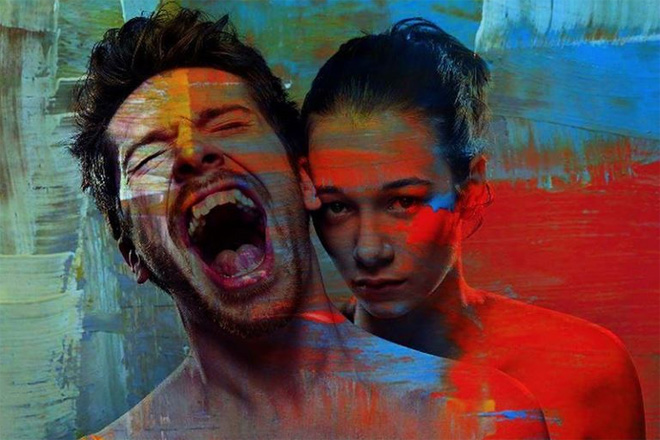 by Laura Kressly
Yokes (n.): Irish slang for ecstasy pills
In March 2015, a governmental gaff meant that for one night only, all drugs were legal. The good people of Ireland duly took advantage of this accidental loophole, leading to a night of glorious mess and the inevitable disappointment that comes from overinflated expectations. Two people, Saoirse and Harry, fall out with their friends and connect with each other during the glorious chaos in this sweet yet predictable story.
Their establishing, unrelated monologues set up the night ahead as Harry and Saoirse get ready to head out with their mates. Drinking at home, acquiring a banquet of substances from their respective dealers and the thrill of not having to hide their usual antics from bouncers makes for a heady mix of excitement and tension within their groups of friends. These sections are over long, though there are some good comedic moments.
Writer Scott Lyons deftly builds a sense of excitement, particularly once Harry and Saoirse meet – though their relationship results in a rather expected, cinematic narrative that ends entirely too abruptly and without adequate resolution. Director Natasha Hyman incorporates an intimate, extended movement sequence, but there isn't enough physical theatre in the piece as a whole to justify its inclusion so it feels tacked on. Staging is otherwise straightforward, but it works for this text-driven production.
The performances by Lyons and Niamh Finlay are spunky and vulnerable with great chemistry between them, which helps alleviate the issues with the script and gives the show plenty of flesh in light of the minimalist design.
At its heart, this is a sweet story framed by a historically unique context – but the play's structure gives the extraordinary event a fairly run-of-the-mill, boy-meets-girl narrative. Though some of the excitement and thrill of this moment in time is conveyed through characterisation and dialogue, Yokes Night doesn't quite capture the this particular night.
Yokes Night runs through 31 March.
The Play's the Thing UK is committed to covering fringe and progressive theatre in London and beyond. It is run entirely voluntarily and needs regular support to ensure its survival. For more information and to help The Play's the Thing UK provide coverage of the theatre that needs reviews the most, visit its patreon.