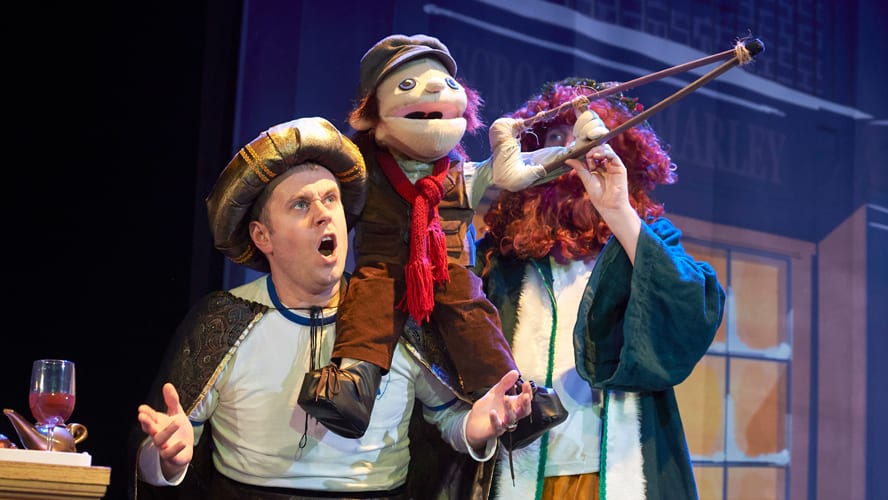 by Zahid Fayyaz
Panto, as most British traditions, is a deeply weird thing but entertains many families over the Christmas period. Bad jokes, overblown costumes, and instinctive call and response catchphrases are all a constant and comforting part of the tradition. In this instance, the talented 'Potted' production franchise are doing their annual Christmas tradition of a performance of all seven panto staples in 70 minutes.
Their experience of performing multiple 'potted' adaptations of the Harry Potter books mean the company has the experience and comic timing to do justice to all the different pantos out there. From the running joke of whether A Christmas Carol is a panto, to a 3D experience, to the question of whether panto villains actually deserve their gruesome ends, and through various costume changes, it is a frenetic and highly entertaining performance. Ostensibly a two-man show (with maybe a guest star here and there), their shifts stick to their allotted, potted time of 70 minutes. There's certainly enough adult and meta jokes to entertain the adults, as well as silly puns and slapstick for the children in the audience.
This is certainly an extremely fun and worthwhile show to watch in the West End. After this year we all have had, it will put a smile on you and your family's face. Highly recommended.
Potted Panto runs through 9 January.
The Play's the Thing UK is committed to covering fringe and progressive theatre in London and beyond. It is run entirely voluntarily and needs regular support to ensure its survival. For more information and to help The Play's the Thing UK provide coverage of the theatre that needs reviews the most, visit its patreon.